Canstar Blue Telco Awards 2020
Canstar Blue is all about helping Aussies make better-informed purchase decisions, whether it's appliances, electricity, new cars, or phone and internet plans. When it comes to telcos, we publish annual customer satisfaction ratings to show which phone and internet providers are best-rated by their customers. But now we can also leverage the data from our comparison tools to show you – based on our expert methodology – which phone and NBN providers are consistently offering superior value. We want to give you as much information as possible before deciding which telcos to choose.
Canstar Research Manager, Mitch Watson, said: "These awards are all about finding out which telcos are consistently offering great value for new customers. Phone and internet costs are generally going down, but cheap prices don't always translate to the best value. That's why we've built comparison tools that allow Aussie consumers to compare based on the cheapest prices, but also the value proposition offered by the telcos, including the data limit provided, as well as the features included, and the telco's customer service offerings based on our data collection and research methodologies.
"These awards showcase telcos that have had the best overall performance across the consumer profiles considered, and provide another point of reference for consumers comparing their options to find the right plan and provider for their needs."
Outstanding Value Award – NBN Plans – Belong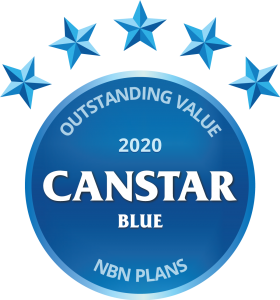 Belong is 2020's Outstanding Value NBN provider, having performed consistently well relative to the market throughout Canstar Blue's observation period. Belong offers strong value propositions across its unlimited data plans, which are available on the Standard Plus and Premium NBN speed tiers.
Belong customers can select from no lock-in contract or 12-month plans, both of which include $0 activation fees. Customers on 12-month plans will receive a free WiFi modem, while month-to-month users can purchase the pre-configured hardware for $60 upfront.
Plans begin at $55 per month for the Starter option, but keep in mind that opting for a no lock-in contract will see you pay an extra $5 per month. If you're on a Belong mobile plan, you'll also receive $80 of free mobile credit at sign up.
"The end of the NBN rollout has seen the market become increasingly competitive, but Belong has remained a stand-out provider," said Mr. Watson.
"As an alternative to bigger broadband providers, Belong offers competitive typical evening speeds at affordable price points, plus simple, contract-free plans with no sneaky setup fees."
Outstanding Value Award – Phone on a Plan – Optus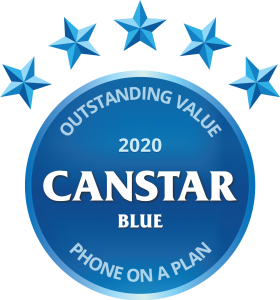 This is Optus' second year as Canstar Blue's Outstanding Value Phone on a Plan Award winner, with the telco again leading a competitive field of providers. During the six-month period considered in our 2020 awards, Optus performed consistently strongly, with a focus on offering best-in-market prices for iPhone and Samsung models.
Since last year's award, Optus has re-launched its phone-on-a-plan options, and now offers device payments over 36, 24, or 12-month payment terms. Handset costs are now separate from Optus' postpaid mobile plans, giving customers the flexibility to switch between price and data points as needed.
Mobile plans also include perks and extras, such as data-free sports streaming and international features, offering customers a well-rounded phone-and-entertainment package (particularly on higher-end plans).
"Optus has shown that last year's award is no fluke, and the telco continues to offer an impressively-priced selection of phone options," said Mr. Watson.
"If you're looking at a new high-end smartphone, Optus delivers some of the lowest prices and highest value on the market, as well as offering flexibility and payment options to suit most customers."
Optus iPhone 13 Plans
The following table compares all 24-month Optus 128GB iPhone 13 plans as published on Canstar Blue's database, listed in order of their standard monthly cost, from the lowest to highest and then by data allowance, largest to smallest. Use our phone plan comparison tool to compare plans from a range of providers.
Optus Samsung Galaxy S22 Plans
The following table shows selected published 24-month Optus plans for the 128GB Samsung Galaxy S22 on Canstar Blue's database, listed in order of standard monthly cost, from the lowest to highest and then by data allowance, largest to smallest. Use our tool for mobile phone plan comparison to see a wider range of plans from other providers. This is a selection of products with links to a referral partner.
Outstanding Value Award – SIM-Only Mobile Plans – Moose Mobile
Showing that it's not just the big names offering the best value, Moose Mobile's consistently low prices and range of plan options saw the telco outstrip rival providers to take home Canstar Blue's Outstanding Value Award for SIM-only mobile plans in 2020.
With plans beginning at a low $8.80 per month, and offering both no-contract and 12-month plan terms, Moose Mobile is an easy and affordable SIM-only option for customers who want flexibility and choice, but prefer postpaid to prepaid. With data inclusions ranging from 1GB to 80GB each month, there's also options for light to heavy phone users, and service is provided on Optus' 4G Plus nationwide network.
Moose Mobile is also known for frequent special offers, such as cheap introductory prices or bonus data, making it a serious proposition for new customers looking to switch to a more wallet-friendly provider.
"For customers looking to cut their bills by moving to a smaller telco, Moose Mobile offers consistent value and a great range of plans," said Mr. Watson.
"Moose Mobile has been strong on price at every data point during Canstar Blue's observation period, which is impressive considering how competitive the SIM-only space has become."
Outstanding Value Award – Prepaid Mobile Plans – OVO Mobile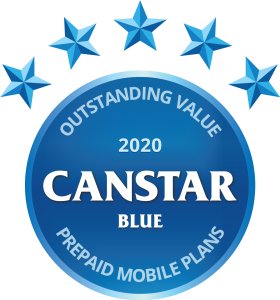 NOTE: Since the publication of these awards, OVO Mobile has been bought by prepaid provider, Amaysim, with existing OVO customers moved to a plan with Amaysim. Prepaid phone plans from OVO Mobile are no longer available to new customers.
Offering a great range of simple plans with plenty of inclusions, OVO Mobile is Canstar Blue's Outstanding Value Award winner for prepaid mobile. The telco's attractively-priced plans, especially at the 5GB and 10GB data points, made it a stand-out in the packed prepaid field over the past six months.
OVO Mobile's prepaid range offers a standard 30-day expiry, with all plans including unlimited standard texts and entertainment extras via the OvoPlay sports and radio app. Most plans feature unlimited standard calls in Australia, with the exception of the lower-priced Mini option, which is aimed at children and teens.
Data allowances are available up to 40GB per recharge, and higher-tier plans also include international call minutes. For a great-priced, simple prepaid plan with plenty of inclusions, OVO Mobile remains a competitive provider.
"OVO Mobile is a great prepaid option for everyday phone users, as well as parents looking for a first plan for kids," said Mr. Watson.
"The range of data and price options offers something for almost everyone, making OVO Mobile a good alternative to more expensive providers also operating on the Optus mobile network."
How did we determine the Outstanding Value Award winners?
Canstar Blue's Outstanding Value Awards use a sophisticated rating methodology, which compares providers' suite of telco products offered to new customers. The Outstanding Value Awards consider providers' performance across each of the following four categories:
Outstanding Value Award – NBN Plans
Outstanding Value Award – Phone on a Plan
Outstanding Value Award – Prepaid Mobile Plans
Outstanding Value Award – SIM Only Mobile Plans
The winners are determined by the cumulative performance of each provider across a range of consumer profiles within each category considered, over a period of six months. The awards consider a provider's best performing product within each consumer profile, and considers the plan's value proposition relative to the market based on Canstar Blue's Value Rank for Mobile and NBN.
Methodology
Further details on the awards methodology can be found via the following links:
About the author of this page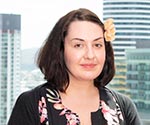 This page was written and is regularly updated by Canstar Blue's Telco Editor, Tara Donnelly. Having spent over seven years writing for and editing telco comparison websites, she's an expert in all things phone & internet, including NBN plans, wireless technology, the latest mobile devices and how to find the best deal for your family. She loves to highlight the next best deals, while also flagging the things you need to be aware of.
Canstar Blue's Telco Provider of the Year Awards in 2019 saw the following winners:
Provider of the Year – NBN Plans – Exetel
Provider of the Year – Phone on a Plan – Optus
Provider of the Year – Prepaid Mobile Plans – Lebara
Provider of the Year – SIM Only Mobile Plans – Vodafone
Methodology
Further details on the awards methodology for 2019 can be found via the following links: