NESCAFÉ steals the show for homemade coffee
When you appreciate a quality cup of coffee, you have two options. You can splash out around $5 at your local café every day, or you can invest in a coffee machine for your home and enjoy your caffeine fix as often as you like. If you like the idea of the DIY approach, then you've come to the right place because Canstar Blue produces an annual review of espresso coffee machines to help you pick the best machine for your specific needs. When it comes to coffee, everyone is different, but our ratings provide a helpful overview of leading brands based on the experiences of hundreds of consumers, to help you in your decision-making process. Which coffee machines are the most reliable? Which are the easiest to use? Which produce the best coffee? These are questions our customer ratings seek to answer.
We've been rating espresso coffee machines since way back in 2011, but during that time there have been only three different winners, which is perhaps quite telling. Nespresso was the first brand to impress in our annual reviews, topping the satisfaction table for two years before ALDI Expressi came along in 2013. The discount supermarket chain dominated for three years, but in 2016 NESCAFÉ Dolce Gusto rose to the top – and has now made it two years in a row as the only brand to rate five stars for overall satisfaction in 2017. Not only that, but NESCAFÉ rated five stars in every single research category, making it a clear winner this time round.
The only other brand to achieve top marks in any category this year was ALDI Expressi, on value for money. This is perhaps not a huge surprise given that its capsule machine retails at less than $80. Overall we found that Australian consumers are spending an average of $287 on espresso coffee machines, with a further $35 being spent on capsules every month. So what can you get for your money? Let's review what the seven brands in our 2017 ratings have on offer.
NESCAFÉ Dolce Gusto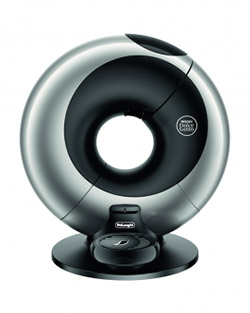 For coffee at home, at just the touch of a button, NESCAFÉ Dolce Gusto offers a wide range of capsule machines, from the classic Piccolini priced at $99, to the futuristic circular Eclipse priced at $349 (pictured). The fully automatic Eclipse is shaped as a loop, which opens up to reveal the coffee dispenser, while the Stelia design was apparently inspired by a drop of coffee. All Dolce Gusto machines operate at a maximum 15 bar pressure and can be used to brew both hot and cold drinks. Boxes of NESCAFÉ capsules can be purchased from most major grocery and home supplies retailers, as well as online from the Dolce Gusto website. Flavours include the expected coffee range, plus the likes of chai, hot chocolate and even soy cappuccino.
ALDI Expressi
The ALDI Expressi espresso machine includes a 19 bar high pressure pump, automatic capsule ejection, cleaning function and automatic shut-off. It comes in either titanium or white exterior finishes, priced at $79.99. A milk frother can be purchased separately for $28.99. Conveniently, spare parts can be purchased online at the Expressi Shop. The capsule range includes coffees of diverse intensities, plus hot chocolate, white hot chocolate and chai latte milk-based capsule drinks. Capsules are priced at $5.99 for a box of 16.
Caffitaly
The Caffitaly one-touch systems range from compact espresso-only devices for smaller kitchen spaces, to fully automatic cappuccino machines with either a fully automatic milk frother and dispenser with removable milk jug or a traditional steam wand. Prices for the various devices range from $119 to $199. Two types of standalone milk frothers are also available. The Caffitaly machines can only use Caffitaly System capsules, but the brand has partnered with a number of other brands including Gloria Jean's, Grinders, Moccona and Woolworths to create a range of compatible coffee capsule flavours to choose from. Details are on the Caffitaly website.
Nespresso
Famous for its advertisements featuring George Clooney, Nespresso has established itself as a boutique coffee experience. The Nespresso capsule machines cover a wide range of appliances from the Essenza Mini standalone capsule machine priced at $159, to the rather extravagant Lattissima Pro priced at $899. Across the machine range, there is a choice of capsule machines without milk frothers, with a separate milk frother appliance, with an automatic milk frother that dispenses right into your cup, and for the most authentic experience with a fully-automatic steam wand. Unlike other capsule products, Nespresso capsules can be purchased individually so you can custom-create your very own assortment starting at 68c each. Visit a retail boutique, reseller, or the Nespresso online store to explore the range.
Breville
Breville produces both manual and capsule coffee machines, plus a drip coffee appliance. The manual coffee machine range starts with the Compact Cafe with a 15 bar pressure Italian-made pump and steam wand for $199.95. At the other end of the price range is the Oracle Touch fully automated machine with a built-in grinder and automatic tamper, colour screen and digital temperature control, hands-free milk frother, and self-cleaning function, priced at $3,499. There are also two types of standalone milk frothers available. Many models come in a choice of stainless steel, cranberry, or black sesame exterior finishes. Breville also collaborates with Nespresso to create a significant proportion of the Nespresso capsule machine range.
De'Longhi
Italian kitchen appliances designer De'Longhi has one of the biggest coffee machine ranges on the market, covering manual espresso machines, fully automatic coffee machines, and capsule machines (collaborating with Nestle to produce the Nescafe Dolce Gusto range). The manual coffee machine range covers a number of colours and styles, from sleek modern designs to retro throwbacks. These are also compatible with ESE pods, thanks to the 2-in-1 filter holder. Some models also include an automatic milk frother and dispenser. Prices range from $299 to $629. The fully automatic coffee machine range stretches well into the high end of the market, with prices starting from $899 for an entry-level model, up to $3,599 for the PrimaDonna Elite.
Sunbeam
This Australian home appliance brand produces a range of manual coffee machines, choosing to stay clear of the capsule trend. The Sunbeam range covers all budgets, starting with the Piccolo Espresso single-cup espresso and steam wand appliance at $129. At the highest end there is the Sunbeam Torino Espresso Machine & Grinder for $1,999 with a one-touch grinder, LCD screen, pressure gauge, hot water dispenser, temperature-sensing steam wand and many more cool features that are said to produce a professional-tier barista experience at home. Sunbeam also produces a drip filter coffee machine and a number of different coffee grinders.
What to look for in a coffee machine
As well as rating the coffee machines they have purchased in the last three years, respondents to our survey have also helped us to paint a picture of what to look for when buying a machine in the first place. Sure, we all want great-tasting coffee, but what other factors help determine overall customer satisfaction?
Reliability
Our research identified reliability as the most important factor in shaping customer satisfaction with coffee machines – and it makes perfect sense! You can own the most sophisticated coffee machine in the world, but unless it works perfectly every time, you're going to question its real value. Imagine the frustration of not being able to make that first coffee of the morning! We've all been there.
NESCAFÉ Dolce Gusto was the only brand to rate five stars for reliability, followed on four stars by ALDI Expressi, Caffitaly, Nespresso and De'Longhi. It was only three stars for Breville and Sunbeam.
Coffee taste
What's worse? A coffee machine that's prone to breaking down, or a bad cup of coffee? With a good cup of coffee on the go, you might be able to overlook some things not going to plan. But if the coffee isn't up to the standards you expect, it will only highlight those other factors even more. Reliability and coffee quality were comfortably the most important drivers of satisfaction to emerge from this year's review.
For taste, NESCAFÉ Dolce Gusto earned a five-star review, followed by ALDI Expressi, Caffitaly, Nespresso and De'Longhi with four stars. Breville and Sunbeam rated three stars for taste.
Value for money
When it comes to buying a coffee machine, you certainly have some cheap options, including the ALDI Expressi coffee machine already mentioned. But cheap doesn't always mean the best value. For your purchase to represent good value for money, it will likely need to deliver on the aforementioned points regarding reliability and coffee taste, as well as some of the factors still to come. Value for money is very subjective, but our customer ratings offer a helpful guide as to where you will find it.
In the value for money stakes, NESCAFÉ Dolce Gusto and ALDI Expressi were top of the class. It was four stars for Caffitaly and Nespresso, with the rest stuck on three stars.
Ease of use
No espresso coffee machine should be overly difficult to use, but our 2017 ratings suggest that some are easier to operate than others – and that's to be expected. It stands to reason that the harder a coffee machine is to use, the less likely you will be to use it! So keep this in mind when picking the best machine for your home. The most sophisticated machines may deliver the best coffee, but unless you can operate the machine properly, you won't get to enjoy it.
Following a similar pattern as previous variables, NESCAFÉ Dolce Gusto rated five stars for ease of use, followed by ALDI Expressi, Caffitaly, Nespresso and De'Longhi on four stars. Breville and Sunbeam rated three stars.
Ease of cleaning
You might be surprised to learn that coffee machines – even espresso machines – require a fair bit of love and care in order to keep them working effectively. So considering how easy a coffee machine is to clean is important before splashing out hundreds of dollars. Like the above point, if your coffee machine is hard to clean, you'll probably be less likely to actually use it.
For ease of cleaning, NESCAFÉ Dolce Gusto was again the only brand to earn a five-star review from customers, while ALDI Expressi, Caffitaly and Nespresso rated four stars. Three stars went to Breville, De'Longhi and Sunbeam.
Design
After all the functional factors listed above, you will also want a coffee machine that is easy on the eye – and impresses your guests when they pop round for drinks. Some espresso machines more closely resemble alien spacecraft than traditional coffee makers, but perhaps that's the look you're going for? Whatever your tastes, you might be better advised to concentrate on the above points rather than the appearance of your coffee machine.
Making it five stars right across the board in 2017, NESCAFÉ Dolce Gusto was also praised in the design stakes. ALDI Expressi, Caffitaly, Nespresso and De'Longhi rated four stars, while Breville and Sunbeam scored three stars.
Which coffee machine should you buy?
Picking the best coffee machine for your home is clearly a real challenge, but our ratings offer a helpful guide. Ultimately though, it all comes down to personal preference – and your budget of course! Consider how often you are likely to use your coffee machine. Our research found that almost two-thirds of adults (63%) use theirs every day, but a sizeable proportion (39%) said they don't use their machine as much as they thought they would. If you're not sure, it's probably a smart move to go for a relatively cheap option in the first instance.
Also consider how much you spend on coffee away from home. Those takeaway coffees on the way to work quickly add up, so work out how much you want and stand to save by making your drinks at home instead. This could be a good guide as to how much it's worth spending on your home coffee maker. Our survey found that 69% of respondents are spending less on takeaway coffee since purchasing their own appliance. However, not quite as many (62%) prefer the taste of their homemade brew.
You will also have to consider things like:
Space: If you plan on keeping your coffee machine on your kitchen bench, make sure you don't buy one that's too big. If you keep it hidden in a cupboard, you might find it starts to gather dust!
Ongoing costs: Make sure you get an idea of how much any coffee capsules and other accessories will cost you going forward. The price of coffee machines is often in line with the cost of the capsules you use with it, so if you're going for a high-end piece of kit, you can expect premium capsule prices.
When all is said and done, coffee machines can be a great addition to your kitchen, provided you get adequate value from them. For many consumers, they probably fall into the category of impulse purchase, so give it some thought before diving in.