Electricity and gas retailer Click Energy has been ordered by the Federal Court to pay $900,000 in penalties after making false or misleading claims about the potential benefits and 'savings' of its big discount power plans.
Now owned by telecommunications company Amaysim, Click Energy was also found to have misled consumers about when they would receive the benefit of pay-on-time discounts, with the discounts applying as a credit on a subsequent bill rather than the current bill, and that no discount would be received by paying a final bill on time.
The Australian Competition and Consumer Commission (ACCC) reports that between October 2017 and March 2018, Click Energy told customers in Victoria and South East Queensland they could get discounts of between 7 and 29 per cent under its market energy offers, if they paid their bills on time.
These claims were misleading, the ACCC says, because the discounts were calculated on Click Energy's market offer rates, which were higher than its standard contract rates available to all consumers. This meant that the effective discounts were smaller than claimed and, in some cases, consumers effectively received no discount at all.
"Click Energy's conduct misled consumers into thinking they were getting a significant discount, when in reality these discounts were often much smaller than advertised," ACCC Commissioner Sarah Court said.
Between October 2017 and April 2018, Click Energy also told consumers they would save between $84 and $946 if they switched to the retailer. These claims were misleading as those savings were based on estimated savings for a Click Energy consumer on a market offer if they paid their bill on time, rather than the savings a consumer would receive by switching from another provider, the ACCC says.
"By making these false claims, Click Energy made consumers think they were better off switching to Click Energy, when the advertised savings had nothing to do with switching, but were savings someone already on a Click Energy plan could get if they paid on time," Ms Court said.
Below is a sample of representations on Click Energy's website as at 8 November 2017, provided by the ACCC.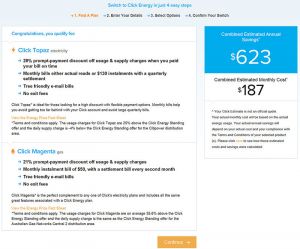 When a pay on time discount is not actually a pay on time discount
The Court also found that Click Energy made false or misleading representations about when the discounts given to new customers who paid on time would be applied to their bills, by not adequately disclosing the applicable conditions surrounding the discounts. These included that discounts would apply as a credit on a subsequent bill and that no benefit would be received by paying a final bill on time.
"This penalty is a strong reminder to all energy retailers that making misleading pricing claims is unacceptable and in breach of the Australian Consumer Law," Ms Court said.
"The retail electricity market is already too complex and opaque for many households to navigate and get the best deal. Misleading claims like those by Click Energy only make it harder for everyday consumers to make informed choices on a major household expense.
"Consumer and competition issues arising from opaque and complex pricing of essential services, in particular energy and telecommunications, are a 2019 compliance and enforcement priority for the ACCC."
Click Energy was also ordered by the Court to send each affected customer a notice correcting the misleading claims, implement a consumer law compliance program and pay an agreed amount towards the ACCC costs.
Click Energy admitted contravening the Australian Consumer Law, and the Court's decision on penalty and other relief was based on a statement of agreed facts and submissions filed jointly by Click Energy and the ACCC.

Picture credits: THINK A/shutterstock.com
Original author: Simon Downes, former Canstar Blue Editor-in-Chief