Electricity retailers Dodo and CovaU will refund customers after being issued with infringement notices by the consumer watchdog for alleged misleading claims about the discounts available on their energy plans.
The companies have paid penalties of $37,800 and $12,600 respectively following action brought by the Australian Competition and Consumer Commission (ACCC) which alleged they made false and misleading claims about the discount percentages on their market offer rates, which were higher than both retailer's standing offer rates.
The ACCC noted that from October 2017 to April 2019, Dodo advertised discounts on its plans in Victoria based on market usage and/or daily supply rates which were roughly 4% higher than its standing offer rates.
Likewise, CovaU marketed its discounts on plans in NSW and Victoria from January to December 2018 based on market offer usage rates which were up to 20% higher for electricity and 7% higher for gas, compared to the rates on its standing offers.
"As a result of using higher market offer rates to calculate the percentage discount, we allege the actual savings offered to consumers were much lower than advertised," ACCC Chair Rod Sims said.
"Energy retailers are reminded that any discount must be genuine and not based on confusing and inappropriate calculations which result in inflated percentage discount claims being advertised to consumers."
Examples of the alleged misleading marketing from Dodo and CovaU can be seen, courtesy of the ACCC.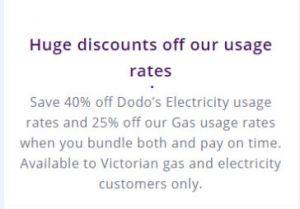 The action taken against Dodo and CovaU follows similar moves from the regulator against energy retailers Click Energy, Alinta Energy, AGL, Origin and Kleenheat in recent years.
It comes at a time when the energy market has undertaken a massive transformation with the introduction of the Default Market Offer in New South Wales, SE Queensland and South Australia, and the Victorian Default Offer (VDO) in Victoria, which both act as a reference price from which energy plans with discounts must be compared.
Under the new Retail Electricity Code, customers previously paying the highest prices on standing offers will pay less under the new regulated price caps for those who do not engage in the energy market.
The new regulations also stipulate that all electricity retailers must comply with strict advertising guidelines that clearly display estimated annual prices either less than, equal to, or more than the reference price in each area.
"While the Australian Consumer Law allows us to pursue misleading claims after the fact, the Code and the new default market offer will help consumers to compare plans in a much more transparent way," Mr Sims said. "With the default market offer now mandated as the standard base rate, energy discount claims can now be easily understood, enabling consumers to shop around for a better deal without being potentially misled by confusing discount advertisements."
Dodo and CovaU have both expressed commitment to refund affected customers as a result of the ACCC findings.
Dodo has also recently committed to refunding thousands of internet customers over claims it made relating to its NBN plans.


Image credits: Sashkin/Shutterstock.com, Australian Competition & Consumer Commission (ACCC)