The NBN is quickly rolling out across the country, but not without controversy. Telcos not being able to meet the speeds they advertise, poor service, expensive installation costs and so on. Some have even compensated customers for slow speeds. The NBN can seem like a nightmare, but if you purchase the right plan, it could be much better than your old ADSL connection.
In the vain of 'trying before you buy', a no lock-in contract NBN plan may be a good way to dip your toe in the ink. They allow you to sample the NBN on a monthly basis without being locked in for 12 months or longer, but there may be a few catches. See what the top no lock-in contract NBN plans are below. Hit a link to jump to your favourite provider.
No Contract NBN Providers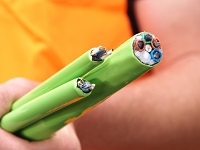 No lock-in contracts on a month-to-month basis may seem like the holy grail of NBN plans, but there are a few catches or hoops to jump through – high set-up costs, modem fees and higher ongoing costs being some of them. Nevertheless, if you find the right provider and plan, you can bag an awesome deal.
iiNet No Contract NBN Plans
iiNet customers have a choice of three speed tiers – NBN 12, 50 or 100. To jump from one tier to the next you can expect to pay an extra $20 per month. iiNet's plans start at just under $60 for 500GB or just under $70 for unlimited data.
No contract fees are $79.95 for set-up and $89 for a modem if you don't have your own.
'Pay as you go' – or PAYG – home phone calls come as standard; home phone call packs can be added from about $10 extra per month. Below features some plans on Tier 4 of the NBN:
Dodo No Contract NBN Plans
Labelled the 'internet that flies', Dodo starts out as one of the cheapest providers in the market. Plans start from under $30, but for this price you get a paltry 10GB. The cheapest unlimited plan is $59.90 a month.
No-contract plans can be subject to upfront fees upwards of $200, which consists of NBN set-up and/or transfer, and the modem fee.
Speed boosts can then be added from $10 per month and call rates are PAYG as standard. Despite the set-up fees, Dodo may still be worthwhile going no-contract for; those who cancel on a 12 or 24 month plan can be hit with an $8 monthly fee for every month remaining on their contract.
Optus No Contract NBN Plans
All of Optus' plans now come with unlimited data starting at just $60 a month. The base plan features 'basic evening speeds' (i.e. NBN 12). The next step up is one which includes a Fetch TV entertainment bundle, costs $80, and comes with a speed upgrade as standard.
No lock-in contract plans attract a $200 set-up fee and $80-and-up plans come with an AC gigabit modem.
Call packs are available from an extra $5 per month. Further speed upgrades are also available from an extra $15 a month. Optus has made it super simple to see what you're paying for and the $200 fee may be worth it for some.
TPG No Contract NBN Plans
TPG is another provider in that game that supplies some dirt cheap NBN plans, starting from under $30. For this price, however, you receive a paltry 10GB on the most basic NBN speed. The cheapest unlimited plan is a hair under $60 a month.
TPG's no-contract option attracts a $99.95 set-up fee; the alternative is to sign up for 18 months.
TPG delivers some very cheap speed boosts too, with NBN 50 costing just $10 extra per month. NBN 100 is an extra $20 on top of this. Voice add-ons are also available from an extra $10.
Telstra No Contract NBN Plans
Australia's biggest internet provider, Telstra perhaps unsurprisingly tries to entice customers into a plan with a lengthy contract. Many more plans are available on 24 month contracts, but Telstra does have a couple of 'Casual' plans:
'Casual' no contract plans: $70 for 100GB, or $80 for 1000GB. A $120 set-up fee applies, as does a $168 fee for the 'Telstra Gateway' modem.
There are no unlimited deals if you opt for a no-contract plan. NBN 25 comes as standard, with speed boosts available from $20 a month extra. PAYG call rates apply on Casual plans with rates from 30c a minute for national calls.
MyRepublic No Contract NBN Plans
MyRepublic burst onto the scene in Australia in 2016, with some cheap top-tier NBN plans. Plans come on a 12 month contract by default. They cost about $70 per month, with unlimited data as standard, but its no-contract plans are a little different:
No contract plans are $5 a month extra and users pay a $99 set-up fee, which pays for the AC gigabit modem.
NBN fixed-line customers get NBN 100 speeds as standard, while fixed wireless customers get NBN 50. Home phone call packs can be added, otherwise calls are PAYG.
Amaysim No Contract NBN Plans
All of Amaysim's plans are no-contract by default and are dead-easy to follow. There are three base plans, and they stretch across three different speed tiers.
A $109 modem fee does apply, but you are welcome to bring your own for no charge.
Speed tiers available are NBN 12, 25 and 100. Amaysim currently has no call packs, and it advises to choose another provider for your home phone calling needs.
Other Providers with No Contract NBN Plans
If the NBN providers above don't tickle your fancy, there are a number of smaller providers that offer no lock-in contracts with unlimited data at a cheap price. Some don't even charge set-up fees, but most of the time you will need to bring your own modem or have one supplied for a fee. Other providers worth considering are:
With these small providers, unlimited data costs as little as around $60, with jumps in speed from around $10 extra per month. It's not just the big guys offering big plans.
Is a No Contract NBN Plan the way to go?
No-contract NBN plans are a great way to sample a certain provider without needing to commit to a 12+ month contract. However, this freedom comes with a price:
No-contract plans often come with set-up costs to the tune of $200+ and many do not include a modem. Some providers even charge more per month for the privilege, or do not offer all their plans with the no lock-in option.
Nevertheless, a no-contract NBN option may be the way to go if you're just not 100% certain. Moving into a new place can be tricky – you don't know good the internet is at that location, what provider to go with and so on.
Signing up to a contract and later cancelling can cost over $200, plus any remaining months you have on your plan.
In this case, paying a set-up fee or a bit extra for a no-contract option may be worth it. Whatever contract type you decide to go with, make sure you compare a range of different providers first.