The NBN is quickly rolling out across the country, but not without controversy: telcos not being able to meet the speeds they advertise, poor service, expensive installation costs, and so on. Some providers have even been forced to compensate customers for slow speeds, pay fines for misleading information, and shut down their NBN services completely.
If all you've heard is bad news, the NBN can seem like a nightmare – but if you purchase the right plan, it could offer better speeds, value, and overall satisfaction than your old ADSL connection. But if you're not sure where to start, or just hesitant to make the switch, signing on to a 12 or 24-month NBN plan can seem daunting.
Should I choose a no-contract NBN plan?
In the vein of 'trying before you buy', a no lock-in contract NBN plan may be a good way to not only see what service is like from the provider you choose, but also a good way to try out speed tiers if you're unsure which speed will best suit your household. Going month-to-month can allow you to sample the NBN without being locked in for 12 months or longer, but there may be a few catches, such as upfront fees.
These upfront fees and any other upfront costs, such as modem fees, can make that first bill quite a big one, so when you compare no-contract NBN plans, you should always look at these fees before signing up. This should give you an indication of how much you'll be paying upfront and you can work out whether this hefty first bill will fit in your budget. These extra fees and costs can often be off-putting when you're looking at a no-contract NBN plan, which is why its important to weigh up the pros and cons of no-contract plans and how it will suit you.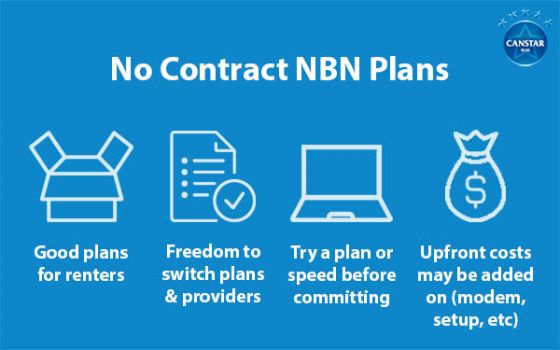 A no-contract NBN plan might suit you if you fall into the following categories:
You're a renter and likely to move in a year or so (and unsure if your next home will have NBN)
You don't like being locked into a contract and like the freedom to switch plans
You like to keep an eye out for good deals and are happy to switch plans if it means saving some money
You're not sure how much data you'll need or which NBN speed tier will suit you and want to try it out first
You want to try a provider out before signing up long-term
If this sounds like you, then its time to look at which NBN providers offer no-contract NBN plans and what you can expect on a no-contract NBN plan.
Compare NBN Plans
The following table shows a selection of published month-to-month unlimited Standard Plus Evening Speed (NBN 50) plans on Canstar Blue's database, listed in order of standard monthly cost, from the lowest to highest, and then by alphabetical order of provider. Use our comparison tool to see plans from a range of other providers. This is a selection of products with links to a referral partner.
We've taken a look at the top no lock-in contract NBN plans further down the page, from Australia's biggest and most popular telcos. Hit a link to jump to your favourite provider.
No-contract NBN providers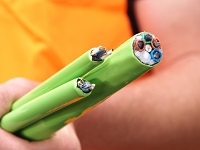 No lock-in contracts on a month-to-month basis may seem like the holy grail of NBN plans, but there are a few catches or hoops to jump through – high set-up costs, modem fees and higher ongoing costs being some of them. Nevertheless, if you find the right provider and plan, you can bag an awesome deal.
Superloop no-contract NBN plans
As a straightforward NBN provider, Superloop offers a range of no-contract NBN plans across several different speed tiers. While you can opt for one of the 'popular' plans on the NBN 25, 50, 100/20 and 100/40 speed tiers, you can also customise your plan with a range of other speeds such as NBN 250 and NBN 1000.
Superloop keeps things simple and doesn't offer phone or entertainment bundles. Plans are also BYO modem and while you can add on a modem if needed, different NBN connections require different modems and you will have to call Superloop to add this on.
Telstra no-contract NBN plans
Telstra has in recent years, focussed on simplifying its NBN plan offerings, most notably switching to month-to-month plans. Unlimited data plans start at $90, with the option to add extras such as Telstra TV and Foxtel Now.
Telstra's NBN plans also include unlimited calls to standard local, national and mobile numbers. Customers will need to buy the $216 Telstra Smart Modem Gen 2 for easy plug-and-play connectivity, but they will also receive access to Telstra's Broadband Protect to guard against any viruses and online threats, and access to the free Telstra Air Wi-Fi network across Australia.
Currently, Telstra is waiving the $99 new connection charge for customers who buy online.
Aussie Broadband no-contract NBN plans
Winner of Canstar Blue's 2020 award for the NBN provider with the Most Satisfied Customers, Aussie Broadband offers a range of seriously competitive plans across almost all speed tiers, all of which are available month-to-month. Unlimited data plans begin at $69 monthly for NBN 25 speeds, and all plans are available BYO modem (or add a pre-configured device for $149).
Plans are offered without setup or exit fees, and Aussie Broadband also provides plans and extras tailored to seniors and gamers. Aussie Broadband also performs well in speed tests, giving customers a great all-round package and value for money at each price point.
Belong no-contract NBN plans
Belong offers a simple approach to selecting a plan – instead of picking one of several packages, you simply pick your speed and contract length. You can select between a 12-month or month-to-month plan, but be aware that you will pay more each month (and upfront) if you go contract-free. Belong's no-lock-in plans cost an additional $5 per month compared to 12-month options, and incur a $60 WiFi modem fee.
All plans feature unlimited data, with three speed options; Starter (up to 30Mbps), Standard Plus (NBN 50), and Premium (NBN 100). No-contract prices begin at $60 per month for the Starter plan, and there are no activation fees.

Dodo no-contract NBN plans
Dodo is another provider offering both month-to-month and 12-month NBN plans. While you'll get the freedom of not being locked into a contract if you choose month-to-month, you will have to pay the $120 setup fee, which includes a modem. Plans are available on NBN 25, 50 and 100 speed tiers all with unlimited data, with monthly prices the same across both the 12 month and month-to-month plans, with the setup fee the biggest difference. Dodo sometimes offers discounts on some plans, so keep an eye out for what is on offer.
Tangerine no-contract NBN plans
All of Tangerine's NBN plans are no-contract by default, making it an easy choice when at the online checkout. Prices are some of the cheapest in the market, with all plans coming with unlimited data as standard. There are three speed tiers available — Standard, Standard Plus and Premium.
All Tangerine plans are available without lock-in contracts, and with or without optional modems, including a standard modem for $119.90, an upgraded modem for $149.90 or a 4G backup modem for $199.90. Other than modems, there's no other setup fees for customers.
iiNet no-contract NBN plans
iiNet customers have a choice of four speed tiers – Basic (NBN 120, Standard  (NBN 25), Standard Plus (NBN 50), or Premium (NBN 100). iiNet's plans start at just under $70 for unlimited data on NBN 25 speeds, up to $99.99 per month for Premium, with NBN 12 plans available for $59.99 for 500GB.
No-contract plans and six-month are available, but going month-to-month means you'll pay for iiNet's optional WiFi modem ($99.95, versus $59.95 on contract). Pay-as-you-go home phone calls come as standard, and you can add on an unlimited national call pack for an additional $5 per month. Fetch TV is also available to add for $59.99 upfront, plus $5 per month on NBN 12 and NBN 25 plans.
Internode no-contract NBN plans
Internode is a direct subsidiary of its bigger brother iiNet. Internode was one of the originators of ADSL2+ internet, and now features as a top telco for NBN. Unlimited data starts at $69.99 a month on Internode's Silver NBN 25 plan, and NBN 12, NBN 50 and NBN 100 speed tiers are also available (labelled 'Bronze', 'Gold', and 'Platinum' respectively). Customers can choose from a six-month contract, or be flexible with a month-to-month plan.
There are no activation or setup fees, but if you'd like an optional modem, you'll pay $99.99 upfront on no-contract plans. Users can also bundle in a Fetch entertainment pack from $5 extra per month, with additional channel packs from $6.
TPG no-contract NBN plans
TPG offers NBN plans on both month-to-month and six-month contracts. Whilst a free Wi-Fi modem now comes as standard with every plan, you will need to pay a $99 setup fee on no lock-in plans.
You can choose from Basic (NBN 12), Standard (NBN 25), Standard Plus (NBN 50) and Premium speeds (NBN 100), and all plans are available with unlimited data. Pay-as-you-go calls are also included in all plans, with unlimited call packs available from an additional $10 per month.
Optus no-contract NBN plans
Optus has swapped out contracts for simplified month-to-month NBN plans across two speed tiers. You'll be able to choose between the 'Internet Everyday' plan with Optus Sport included and optional Fetch TV Mini (at extra cost), or 'Internet Entertainer' with Optus Sport and Fetch TV Mighty included. Both plans come with an optional phone line service add on (otherwise it's PAYG calls) and your choice between NBN 50 or NBN 100 speeds. However, choosing NBN 100 will cost you an additional $30 per month for the faster speed.
Other providers with no-contract NBN plans
If the NBN providers above don't tickle your fancy, there are a number of smaller providers that offer no lock-in contracts with unlimited data at a cheap price. Some don't even charge set-up fees, but most of the time you will need to bring your own modem or have one supplied for a fee. Some other providers worth considering are:
With these providers, unlimited data costs as little as $60, with jumps in speed from around $10 extra per month. It's not just the big guys offering big plans, with many NBN providers out there offering no lock-in contracts. You may just have to be aware of setup fees and other associated costs.
Is a no-contract NBN plan the way to go?
No-contract NBN plans are a great way to sample a certain provider without needing to commit to a 12+ month contract. However, this freedom sometimes comes with a price. No-contract plans often come with set-up costs to the tune of $200+, and many do not include a free modem – you'll usually have to pay extra, or bring your own. Some providers even charge more per month for the privilege of skipping a contract, or do not offer all their plans with the no lock-in option.
Nevertheless, a no-contract NBN option may be the way to go if you're just not 100% certain, especially if you're moving into a new place. It can be tricky as you don't know just how good the internet is at that location, which provider you should go with, and so on. No-contract plans are also great for renters if you don't know how long you'll be staying in one place, especially since the next place you move to might not yet be connected to the NBN.
If you are unsure about whether you really can stay on a fixed contract, remember that cancelling a plan later on can sometimes cost you over $200, plus any remaining months you have on your agreement. In this case, paying a set-up fee or a bit extra for a no-contract option may be worth it. Whatever contract type you decide to go with, make sure you compare a range of different providers first.
No-contract NBN plans summary
| Telco | Plan | Monthly Cost | Monthly Data | Contract Term |
| --- | --- | --- | --- | --- |
| Tangerine | XL Speed Boost NBN 50 | $69.90 | Unlimited | No contract |
| TPG | NBN50 SL | $69.99 | Unlimited | No contract |
| Belong | NBN 50 plan | $70 | Unlimited | No contract |
| Dodo | NBN Standard Plus NBN 50 | $70 | Unlimited | No contract |
| iiNet | NBN50 Liimitless | $74.99 | Unlimited | No contract |
| Optus | Internet Everyday NBN 50 | $75 | Unlimited | No contract |
| Superloop | Unlimited Standard Plus 50/20 BYO | $78.95 | Unlimited | No contract |
| Aussie Broadband | Unlimited Everyday NBN 50 | $79 | Unlimited | No contract |
| Internode | Gold Unlimited NBN 50 | $79.99 | Unlimited | No contract |
| Telstra | Unlimited NBN 50 | $90 | Unlimited | No contract |