Installing Solar: What to Consider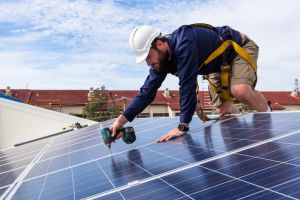 Most Australians are by now well aware of the advantages of solar power. That said, it's not necessarily a good investment for everyone. If you're yet to install solar, here are a few key points to consider:
Location: Households in sunnier areas such as the NT, QLD, WA and parts of NSW stand to benefit the most from solar panels. Most areas of VIC and SA can also be suitable for solar power, provided they receive favourable weather.
System size: Picking the right sized solar system will depend on how you plan to use it. Consider your rates, how much electricity your property uses, and if you're eligible for a FiT. If you're on the fence about what system size you should choose, you might want to opt for a small (and cheaper) one – you can always upsize in the future. To give you some idea, we found 3kW and 5kW systems to be the most popular with survey respondents.
The cost: The hefty price tag is undoubtedly the biggest bar to installing solar, with our 2018 survey finding customers spent an average of more than $6,000. While the price of solar is generally coming down, even the most basic system will set you back a few thousand dollars.
Solar Storage Batteries
A solar storage unit is a battery capable of storing the electricity your solar panels produce, rather than having it exported to the energy network. Solar battery technology has improved considerably in recent years and new residential products such as the Tesla Powerwall, Ecoult Ultrabattery and Aquion battery have helped bring the technology to the mainstream market. You can see a detailed list of solar batteries available in Australia here.
Solar storage batteries remain fairly uncommon. That said, three in five respondents to our 2018 survey (61%) said they aspire to go 100% off the grid. To do so, you'll need a significant storage capacity.
Solar customers that receive a small feed-in tariff stand to save the most with a solar battery. By storing electricity for later use, the customer is saving the price they would have paid for electricity. This is often a saving of 20 to 30 cents per kWh, rather than the 6 to 12 cents they might have received with a feed-in tariff. Unfortunately, solar batteries remain quite expensive in Australia, costing upwards of $8,000 to purchase and install. At present, that means a solar battery might end up costing you more than you will save, though that will depend on the size of your solar system as well as the price you pay for electricity.
Solar Plans: What's available?
Solar is set to reshape Australian energy in the coming decades, and it's quickly becoming a key battleground for energy companies. We are seeing providers getting increasingly creative with their plans. Diamond Energy, for example, recently introduced its GridCredits100 plan, which gives eligible solar customers up to 100c/kWh for electricity at times of high network demand. Some retailers have also experimented with variable rate feed-in tariffs, where the rate you receive for your solar-generated electricity will vary depending on current wholesale prices. While there are some solar-focused energy retailers and products – including Sanctuary Energy – in the majority of cases, signing up to a solar plan will not be too dissimilar to an ordinary electricity plan. The only difference is that you will also receive a feed-in tariff, so assuming you're entirely self-sufficient, you'll still need to compare plans based on their usage and supply charges.
Top Solar Retailers
To help you decide which solar retailer might be the best fit for your personal circumstances, here is an overview of the nine providers in this year's review.
Red Energy
Red Energy is a well-rounded energy retailer, offering competitive rates, a moderate feed-in tariff and a 10% pay on time discount on your entire bill – not just the usage charge component. Its main products are the 'Living Energy Saver' in NSW and Victoria, and the 'Easy Saver' in SA and QLD. These deals come with everything we just mentioned, plus flexible payment, e-billing and GreenPower options. Rates are variable. Customers on the Living Energy Saver also have access to Red Energy Rewards, which includes discounts and benefits at various retailers and entertainment activities. Red Energy also offers solar PV, home storage and energy monitoring solutions backed by above-standard warranties. In addition to its five-star rating for overall satisfaction, Red Energy also scored highly for its customer service, bill clarity, value for money and focus on environmental sustainability.
Lumo Energy
Lumo Energy emerged as the highest-rated solar retailer in 2017. While it couldn't hold onto its title this year, Lumo Energy again performed well with five stars for customer service, tariff clarity and tools and advice. Lumo Energy only operates in Victoria and South Australia, and is another well-rounded retailer that is generally price-competitive. Lumo has several energy deals to choose from, with most including a moderate-sized conditional discount and feed-in tariff. Depending on the plan, customers may also get access to Lumo Ameego – a rewards program that brings benefits at various retail outlets, restaurants, etc.
Simply Energy
Simply Energy has a host of interesting energy offers such as products including free movies tickets and deals exclusive to members of certain clubs. Simply Energy offers competitive feed-in tariffs as well as a reasonable conditional discount on usage charges when customers pay on time. Simply Energy has also partnered with True Value Solar to offer a special deal to new customers who install solar. The 'Simply Solar Plus Package' sets customers up with panels and an inverter, and provides an increased 14c/kWh feed-in tariff for two years. Simply Energy scored four stars overall and across most other categories.
ActewAGL
ActewAGL retails electricity and gas services in the ACT and surrounding parts of NSW. Actew is a very cut and dry retailer, offering a modest discount and feed-in tariff. ActewAGL is also a solar installer and claims that as your energy retailer, it has an advantage over other solar installers because it can look at your usage data to accurately tailor a system for your home. ActewAGL scored four stars from its solar customers for overall satisfaction, with a mix of two, three and four stars across the various research categories.
Alinta Energy
Alinta Energy is a rapidly-growing energy provider, operating across QLD, NSW, SA, Victoria and WA. Alinta doesn't offer much in the way of solar and its feed-in tariffs are below average in most states. However, Alinta Energy has some of the biggest conditional discounts and generally lowest prices on electricity, meaning it is still a viable choice for customers with or without solar panels. Alinta Energy rated four stars for overall solar satisfaction and the same score in most other categories this year.
AGL
Almost all of AGL's electricity deals are available to solar customers. While AGL doesn't offer any standout feed-in tariffs or special discounts to solar customers, its reasonable rates means you can at least expect a reasonable deal overall. AGL develops and installs solar panels and battery storage systems. Customers also have access to the retailer's exclusive solar monitoring system for free. For customers who want to reap the rewards of solar but can't quite afford it, there's the 'Solar Smart Plan'. Those on this plan will have solar panels installed at their property by AGL for $0 upfront. They then buy the electricity being produced by the panels at a much lower rate than what they'd pay for it from the grid. AGL was rated three stars overall this year, with a mix of two, three and four stars across the board.
Click Energy
Click Energy has a variety of solar products across QLD, NSW, Victoria and SA. Some of these plans offer feed-in tariffs well above those of other providers, with often large conditional discounts to boot. But it seems this wasn't enough to convince solar customers as the retailer only managed three stars on value for money and overall satisfaction. Click Energy's strongest areas of performance were for its customer service and solar tariff clarity, rating four stars in these areas.
EnergyAustralia
Most EnergyAustralia electricity deals include a feed-in tariff for solar customers between 11 cents and 15 cents. While this isn't a phenomenal rebate, customers could still stand to make great savings when this is combined with EnergyAustralia's competitive energy rates and discounts. While EnergyAustralia doesn't directly install solar itself, it works with customers to help find and organise the right solution for their home. In our latest review, EnergyAustralia scored three stars for overall satisfaction and the same outcome in most other research categories.
Origin
As one of Australia's largest energy retailers, Origin has a wide range of electricity deals, including the 'Solar Boost' and 'Solar Boost Plus'. Both products include discounts and above-average feed-in tariffs. However, all Origin electricity plans include some form of feed-in tariff. The company also sells and installs solar panels, batteries, inverters, home monitoring systems and practically anything else you will need to start saving on electricity with solar. In our ratings, Origin achieved three stars for overall satisfaction, but just two stars on value for money. It scored four stars on customer service and bill & cost clarity.
How to get the best value from solar
A growing number of Aussies are turning to solar to escape rising power prices. Recognising this, more and more energy retailers are focusing on products designed to help solar customers save. Households with solar panels now have an unprecedented number of options available to them, meaning it's more important than ever to frequently compare providers and products. It also means that you need to be increasingly wary of traps – while a particular plan might include a very juicy feed-in tariff, this may be compensated for with increased electricity rates or smaller discounts.
When comparing providers, be sure to look at their Energy Price Factsheets and ask plenty of questions if you're unsure about any of the terms. Just like all energy users, solar customers shouldn't just set and forget with one provider. Make sure you regularly compare retailers and plans so you can truly maximise your solar savings.