The NBN is fast being rolled out across the country. While a number of suburbs already have the service, you're probably curious to know when YOUR area is getting NBN if it hasn't already. We'll break it down by state and then by postcode to see when your area is scheduled to get NBN. Click below to see what's going on in your state and which type of NBN connection your suburb is going to get.
Types of NBN Connection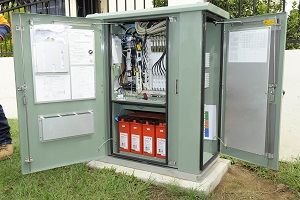 There are three main types of NBN connection – fixed-line, fixed wireless and SkyMuster satellite. The following report focuses on fixed line connections, which are further broken down into a three categories:
FTTN – 'Fibre to the Node': Is the most common type of NBN connection, using fibre cables to a node in a local area, and the existing copper phone line connection from the node to the home.
FTTC – 'Fibre to the Curb': Or 'Kerb' if you're a stickler for grammar. This uses a fibre connection literally to the kerb of nearby homes, and copper home lines are then used from the kerb to the home.
FTTP – 'Fibre to the Premises': This ditches the copper line entirely and brings fibre cables right up to your front door. Fewer suburbs have this type of connection, but it affords the fastest and most reliable speeds – usually.
Out of the three connections, FTTN is the most widely rolled-out, but FTTC and FTTP largely provide greater bandwidth capacity and faster speeds.
NBN Rollout Schedule & Postcodes
If you aren't on the NBN yet, read below to see if your area is on the list for rollout in early 2018. Also find out which type of connection is coming to your suburb, which can ultimately determine how fast your connection is likely to be. Once your suburb is connected, you have 18 months to sign up to an NBN plan before your old service is cut off.
The map below lists postcodes due to be connected to the NBN in the near future.
NBN Rollout Schedule NSW
The following suburbs are scheduled to be connected to the NBN between April and June 2018, except for 2587 – Harden, which is due to be rolled out between January and March 2018.
2008: Darlington – FTTC
2019: Botany – FTTC
2074: Turramurra – FTTN
2077: Hornsby – FTTC
2085: Belrose, FTTN
2101: Elanora Heights – FTTC
2102: Warriewood – FTTC
2103: Mona Vale – FTTC
2104: Bayview – FTTC
2106: Newport – FTTC
2128: Silverwater -FTTC
2140: Homebush West – FTTC
2172: Voyager Point – FTTN
2175: Horsley Park – FTTN
2178: Kemps Creek – FTTN
2205: Arncliffe – FTTC
2211: Padstow – FTTC
2216: Rockdale – FTTC
2227: Gymea – FTTC
2228: Miranda – FTTC
2229: Caringbah – FTTC
2232: Kirrawee – FTTC
2358: Uralla – FTTN
2390: Narrabri – FTTC
2402: Warialda – FTTC
2431: South West Rocks – FTTN
2445: Lake Cathie – FTTN
2447: Macksville – FTTN
2474: Kyogle – FTTN
2550: Tathra – FTTN
2551: Eden – FTTN
2583: Crookwell – FTTN
2587: Harden – FTTN (January to March 2018)
2647: Mulwala – FTTC
2710: Deniliquin – FTTN
2750: South Penrith – FTTN
2754: North Richmond – FTTN
2757: Kurmond – FTTN
2773: Glenbrook – FTTC
2776: Faulconbridge – FTTC
2777: Winmalee – FTTC
2778: Woodford – FTTC
2779: Hazelbrook – FTTC
2790: Littleton – FTTN
2825: Nyngan – FTTC
2832: Walgett – FTTC
2845: Wallerawang – FTTN
2847: Portland – FTTN
NBN Rollout Schedule ACT
Three out of the four suburbs rolling out NBN in the ACT are schedule for between April and June 2018. Curtin, 2605 is scheduled for July 2018.
2600: Yarralumla – FTTN
2605: Curtin – FTTN (July 2018)
2905: Calwell – FTTC
2906: Conder – FTTN
NBN Rollout Schedule VIC
Victoria is gearing up for a significant NBN rollout, with the bulk scheduled for between April and June 2018, while the rest are highlighted with their corresponding dates below.
3011: Footscray – FTTC
3023: Burnside – FTTN
3024: Wyndham Vale – FTTC
3027: Williams Landing – FTTC
3028: Altona Meadows – FTTC
3044: Pascoe Vale – FTTC
3058: Coburg – FTTC
3059: Greenvale – FTTN
3074: Thomastown – FTTC
3075: Lalor – FTTC
3081: Heidelberg Heights – FTTC
3084: Viewbank – FTTC
3121: Richmond – FTTC
3140: Lilydale – FTTC
3156: Lysterfield – FTTN (Jan-Mar 2018)
3196: Chelsea – FTTC
3198: Seaford – FTTC
3199: Frankston – FTTC
3200: Frankston North – FTTC
3350: Redan – FTTC (Jan-Mar 2018)
3377: Ararat – FTTN
3380: Stawell – FTTC
3525: Charlton – FTTN
3717: Yea – FTTC
3750: Wollert – FTTC
3803: Hallam – FTTC
3804: Narre Warren North – FTTC
3911: Langwarrin South – FTTC
3977: Cranbourne – FTTN
NBN Rollout Schedule QLD
All of Queensland's suburbs featured are due to be rolled out between April and June 2018. Most are Fibre to the Node connections, though some are Fibre to the Curb.
4131: Meadowbrook – FTTN
4133: Waterford – FTTN
4227: Varsity Lakes – FTTN
4271: Tamborine Mountain – FTTC
4362: Allora – FTTN
4662: Torbanlea – FTTN
4680: Wurdong Heights – FTTC
NBN Rollout Schedule SA
The following South Australian suburbs are due to be connected to the NBN between April and June 2018. It looks like there may be a bit of 'suburb envy' between Craigmore and Davoren Park, with the former getting FTTC and the latter getting FTTN! It's about to kick off in the north of Adelaide!
5007: Brompton – FTTC
5023: Seaton – FTTN
5076: Athelstone – FTTN
5113: Davoren Park – FTTN
5114: Craigmore – FTTC
5210: Mount Compass – FTTN
NBN Rollout Schedule WA
The suburbs listed below are due for NBN connection between April and June 2018, with the exception of East Carnavron, which is due to go live in May. Banksia Grove lucked out to get Fibre to the Premises (FTTP). We imagine their Mariginiup neighbours might be feeling a bit jealous!
6021: Balcatta – FTTN
6031: Banksia Grove – FTTP
6050: Mount Lawley – FTTN
6061: Balga – FTTN
6078: Mariginiup – FTTC
6537: Denham – FTTN
6701: East Carnavron – FTTN (May)
What do I do when NBN comes to my suburb?
If your current provider also offers NBN, you may not have to do anything! Your provider may have an 'NBN ready' plan pack, with free NBN transition and shutting down of your old ADSL connection. Plan prices may not change, but you may have to spend more to get a better speed. Some other tips are:
In any case, it never hurts to reconsider your options. The NBN rolling out may be a good time to review the provider you are with and whether they are really fulfilling your needs. Aside from contracts, it may not hurt to switch! The NBN is not without its bumps in the road, but it should still be an exciting time if you're about to be connected.