Get the ultimate home theatre experience by comparing some of the best flat screen TV brands with our customer satisfaction ratings.
Compare television brands using our customer satisfaction ratings.

Free-to-air TV reigns supreme, but internet TV's popularity is undeniable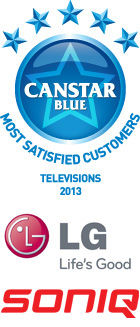 Free-to-air broadcast TV remains the main source of programming for three quarters of respondents to our recent survey, but a significant percentage of Australian viewers also use other means to get their television fix.
For example, nearly a quarter of respondents mostly watch internet content streamed through their Smart TV or other electronic devices such as a laptop, gaming console or iPad. Similarly, just over a quarter of respondents do most of their TV viewing on Foxtel.
Downloading TV content seems to be a habit of the young – roughly half of Generation Y respondents mostly watch TV this way, compared to 14% of Baby Boomers.
While less than 10% of total respondents upgrade their televisions every year, our survey found 22% of younger viewers update their TV annually. Keeping up with the latest in TV technology might be easier due to cheaper purchasing costs. Research from the Australian Communications and Media Authority shows the average price of LCD TVs (includes LED models) has come down by roughly $256, and the mean price of Plasmas has dropped by $174 over a two year period (2011 – 2012)1.
These prices may also explain the prominence of the television in the average Australian household – 58% of respondents own two or three televisions and 15% own four or more.
Looking smart: LG and Soniq achieve Canstar Blue awards for 2013
Nowadays, many televisions are outfitted with internet connectivity, 3D capability, and pixels so small they're indiscernible to the naked eye. It's little wonder then why some choose to upgrade their TV on a regular basis, but which brand should shoppers choose?
Our survey looked at customer satisfaction with television brands purchased in the last two years. Both LG and Soniq were awarded our Most Satisfied Customers Award – Televisions for 2013, and received five stars for overall satisfaction. In other results:
LG also received top ratings for performance and ease of use.

Soniq achieved additional five star ratings for value for money and ease of use.

Panasonic received five stars for TV performance, and

Sony received five stars for warranty and service.
Samsung, Toshiba, Hisense, Kogan and Dick Smith were also rated.