Google Home has landed in Australia, delivering voice-activated access to a range of services, and bringing with it the potential to boost the emerging smart home market, acting as a hub for controlling smart devices.
In the words of Google, Google Home is a "voice-activated speaker powered by the Google Assistant". Google Assistant is a digital assistant, also available on compatible Android and iOS devices, with users able to ask it questions and tell it to do things, such as managing daily tasks.
Digital assistants have become a significant focus for a number of global technology heavyweights, from Google to Apple, Amazon and Microsoft, and smart home speakers have in recent years emerged as a new focus area for application of the technology.
Information technology research and advisory company Gartner last year forecast that end-user spending for the worldwide virtual personal assistant (VPA)-enabled wireless speaker market will reach US$2.1 billion by 2020, up from US$360 million in 2015.
Gartner found that while today's VPAs are limited in vocabulary and contextualisation, they will improve in the future, stating that it "expects that by 2020, a natural-language interaction could be delivered that satisfies users and creates scenarios with significantly improved value".
Google Home is one of the first smart speakers to launch in Australia, and there appears to be great potential to build upon its suite of services. So, what exactly does it offer and should you be buying one?
Introducing Google Home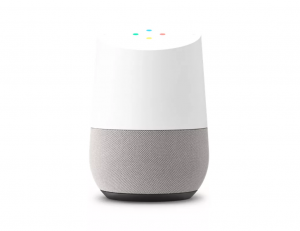 Google Home is cylindrically shaped, measuring 142.8 mm in height, with a diameter of 96.4 mm, and weighing 477 g, with it designed "to fit stylishly into any room", sporting a grey base (with customised carbon and copper colour bases also available for purchase separately for $59 from the Google Store), while its power cable measures 1.8 m.
The speaker is at the base of the unit, while the microphone is positioned at the top, and it is worth noting that Google Home does not come with a battery, meaning that it will need to be located close to a power point.
While Google Home is, of course, voice controlled, the top of the unit also features touch controls, allowing users to play or pause, adjust the volume and activate Google Assistant, while a mic mute button is located on the back of the unit.
Lights positioned on the top of the unit indicate Google Home's status, with no lights indicating it is waiting to hear the "Ok Google" voice activation, dots animated indicating that it is listening for your request and four red dots indicating that voice control has been deactivated.
To begin setting up Google Home, you will need to plug it into a power point, and to download the Google Home app (available for Android and iOS), which Google describes as "your one-stop destination to discover all of Google Home's content and features".
Compare Phone Plans & Providers
Time to turn it on
Once Google Home has been turned on, and once you have downloaded the Google Home app, you will need to connect your mobile device to the same Wi-Fi network to which you intend to connected Google Home, and to then follow the setup process, which is carried out via the app.
It is possible for up to six people to connect their account to the one Google Home device, with Google stating that Google Assistant is able to distinguish your voice and provide personalised answers.
To activate Google Home, you will need to say "Ok Google" or "Hey Google", and Google states that the Australian release of the device comes decked out to deliver for Australian users.
"With a distinctly Aussie voice, your Assistant on Google Home speaks and understands your language," Google states. "Ask it for brekkie ideas or where the nearest servo is. You can also ask it what sound a Kookaburra makes, and it'll cue the laughter we all know and love."
Time to plan your day 
Google Home can provide a range of information to help plan your day via Google Assistant, such as providing updates on traffic and weather conditions, and can also manage tasks, such as setting an alarm, starting a timer or compiling a shopping list.
Google Assistant delivers the sort of functionality that has come to be associated with digital assistants, and while on-the-go access to digital assistant services is provided by smartphones, Google Home is obviously more orientated towards providing help around the house.
Google provides the following examples of the sorts of questions that can be asked:
"Ok Google, tell me about my day"
"Hey Google, how long will it take to get to work?"
"Whether you're stirring pots, matching socks or brushing hair, we know Aussie homes are busy ones," Google states. "That's why your Assistant on Google Home has been designed to help you get more stuff done when you have your hands full. With your permission, it will help with things like your commute, your daily schedule and more."
In addition to this, Google Assistant can provide a range of information on different topics, and can perform other tasks, such as calculations, translating phrases and providing definitions, all activated by and delivered via voice.
Connect with other devices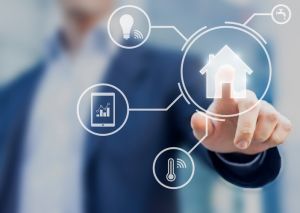 From the living room to the kitchen, Google Home can connect with other compatible smart devices, providing for voice-activated operation.
This may take the form of turning smart lights on and off or operating smart appliances, while custom voice commands, such as those developed by IFTTT, provide for user-specific requests to be created.
"Home can help you keep track of everything going on in your home – you can control your lights, switches and more, using compatible smart devices from brands like Philips Hue and IFTTT," Google states. "Just ask, and your Assistant will turn off the kitchen light."
Meanwhile, for households that also have a Google Chromecast media streaming device, users can use voice commands to operate video streaming services Netflix, Stan and YouTube on their TV.
Using the speaker
Google Home users can operate music, news and radio services via the unit's speaker, while any combination of Google Home, Chromecast Audio devices or speakers with Chromecast built-in can be grouped together to deliver synchronous music throughout a household.
Music subscription services such as YouTube Music, Google Play Music and Spotify can be accessed via Google Home, and Google is also currently offering six months of YouTube Red for free to customers who are new to Google Play Music and YouTube Red with Google Home.
Users can also receive news updates from sources including Fox Sports, ABC News, The Australian, The Huffington Post, TechCrunch and Sky News.
Time to get one?
Google Home offers a variety of services and it may well appeal to a broad customer base, from users keen to take advantage of Google Assistant's task management services, to users wanting to use it as a speaker and voice-activated media player, to users seeking to utilise its smart home services.
It is also notable that Google states that "your Assistant on Google Home will continue to get better over time", with more features to be added, while Google Home will also soon be open to third party apps for Google Assistant, delivering access to more services and content.
Google states that Google Home is available for $199 from the Google Store, JB Hi-Fi, Harvey Norman, Officeworks, The Good Guys, Telstra, Optus and the Qantas Store.