You might notice some changes when you next go shopping for an air conditioner, with a new energy ratings label being introduced.
That's because the government will change the regulatory requirements for air conditioners in Australia to help cut energy bills and make it easier for consumers to choose a unit that best suits their needs. The new ratings labels are set to be introduced in April 2020.
The new rules set minimum energy performance standards and labelling requirements for air conditioners of up to 65 kilowatts in capacity. This applies to single and double duct portable air conditioners, double duct portable reverse cycle evaporative coolers and ducted air conditioning.
Portable air conditioners have previously been exempt from regulations around the use of energy ratings labels.
The existing rating method does not take into account the impact that climate has on performance and use of air con. Consumers also are unable to compare the energy-efficiency of portable air conditioners with other types.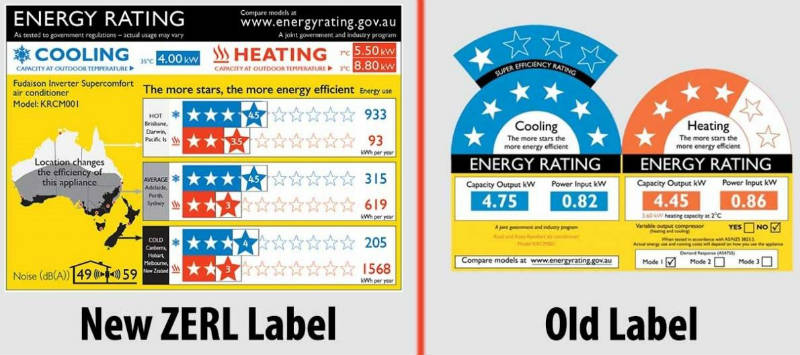 Zoned Energy Rating Label (ZERL)
The principle change from the current requirements is the introduction of a Zoned Energy Rating Label which includes information on the energy-efficiency and annual electricity usage of that air conditioner across three climate zones – hot, average and cold – instead of just one.
It will also take into account the noise level produced by the unit when operating under full load.
Energy Minister Angus Taylor said: "Higher minimum energy performance standards will prevent the least efficient air conditioners from being supplied into Australia, reducing both energy costs and consumption.
"The label will display star ratings and annual energy consumption figures for three different climate zones, rather than just one, so shoppers can choose the one that's right for where they live.
"For example, a household in western Sydney could save $200 a year using the new label to choose an air conditioner for their two-bedroom apartment."
While the Greenhouse and Energy Minimum Standards (Air Conditioners up to 65kW) Determination 2019 was registered and published on 1 April 2019, there is a transitional period for manufacturers to register air conditioners in accordance with the previous determination or the new one.
The new format energy labels and SEER ratings will be mandatory for air conditioners being registered, imported or manufactured from 1 April 2020.

Picture credits: Sorbis/shutterstock.com