You might come to think of heaters as those clunky, malfunctioning radiator-style appliances sitting in the corner of your lounge room. Though, the heater industry has picked up its game in recent years, aiming to become more energy efficient. The way they have done this is through fan heaters and portable heaters – instead of an inefficient one humming away in the corner. One heater to break the status quo is affectionately named Paul, from Stadler Form.
Paul is like the ideal boyfriend. He has a respectable name, and is a portable heater so you can bring him home to your parents. He's warm and cuddly, is good looking and exotic – he's Swiss designed! Though, it's a lot more than good looks that make an ideal boyfriend, right? Read on to see what's on the inside, and here's the promo video:
How does Paul stack up?
Stadler Form has designed a heater that is simply smart. Paul's most standout feature is Adaptive Heat technology, which makes for some sensitive heat. We all love a guy who's sensitive! This technology allows Paul to adapt and fine-tune heat output to always maintain the desired level of heat. There are no fluctuations between 'too cold' and 'too hot' – Paul will always make sure you're comfortable. He delivers gentle, quiet and dynamic heat so you're never kept up late like with his spluttering radiator cousin. Think of Paul as like a romantic guitar player, whispering soliloquys in your ear.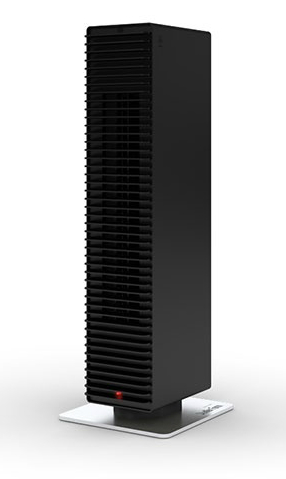 If you're shivering away this winter, but not looking for something that's going to be put in the cupboard for nine months a year, then Paul may be your ideal coupling. Paul is the ideal boyfriend – he is also the ideal housemate. Turned off auto-mode, Paul is easily controlled for air-conditioning in the summer months too. You can precisely adjust the desired temperature using the intuitive touch panel. Though, if you're too wrapped up in summer cricket, then you can adjust the temperature using the remote control provided.
Paul is also built to withstand moist environments. While he may not tell you how beautiful you are in the shower, Paul will help clear out the steam, enabling you to get ready quickly. Even if you don't use the cooling or heating functions, Paul operates like a fan, which makes it useful for places like the bathroom. He's also an easy roommate to maintain – Paul's air filter is washable, and hence, reusable.
Paul is also an athletic specimen – his internal construction is designed in such a way that the airflow from the heating element is obstructed as minimally as possible. He's a discreet little guy, too; standing at a touch over 53cm, and weighs only 5kg. But he's powerful, with a power at 1200/2000 watts. Furthermore, like a traditional fan, Paul has swing mode, so the cool air can be shared around on a hot summer's day. Paul really is a selfless fellow.
Related aritcle
Is Paul worth the money?
Like any good boyfriend, Paul comes with 'one little thing' that may turn off a lot of potential suitors – Paul retails for $769.99. Paul packs a serious punch when it comes to portable heating and cooling, but over $700 is a lot to take on for many consumers. Though, we suspect if you're serious about not sweating through summer or chattering teeth through winter, then Paul may be your perfect companion. He's also much cheaper than any split system air conditioners out there, and a lot easier to install too! Paul is all about convenience, and you're paying for it.
If you're understandably not up to the task of $770 for a portable air conditioner, then Paul's younger sister Anna may be the more ideal date. At $164.99, she's a bit less exciting, and smaller than Paul, but you won't be left out of budget.
Overall, Paul is a great companion when it comes to summer heat, and winter blues. He's feature-packed, in an aesthetic, compact form. We suspect that if you can justify $770, then Paul could be your best friend for years to come.