Dedicated streaming boxes can be a tough sell in the modern age of 'smart' televisions where built-in streaming apps such as Netflix and Stan happily coexist alongside traditional broadcast television. However, streaming boxes can do a lot more than just facilitate your Netflix habit and the best example of this is the Shield TV from Nvidia.
You're forgiven if you have never heard of the Shield TV as it is currently only available in the United States and Europe. But if there was ever a device worth importing it would be this one. Read on to find out why, writes Krishan Sharma.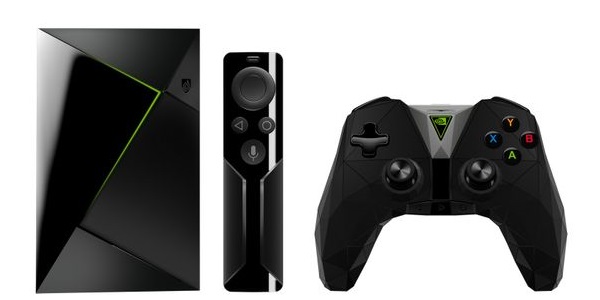 Content: not just a streamer
The Nvidia Shield has been available for a couple of years now but despite its age, it is still the most powerful streaming device on the market. The company's heritage after all is in building graphics chips so this should come as no surprise but why exactly is this important for a streaming box? For one, all that power under the hood translates to a fast and stutter-free software experience where apps and menus load without delay and demanding 4K videos playback without any buffering issues.
The Nvidia Shield runs the latest version of Google's Android TV – the same operating system that powers Sony's Bravia line of televisions and more recently the Vodafone TV. As such, local catch up services such as ABC iView and SBS OnDemand are just an app download away from the Google Play Store. The Shield is also capable of delivering Netflix, Stan and Amazon Prime Video content in 4K and HDR (high dynamic range), however, unlike the Apple TV it does not support Dolby Vision.
Another caveat is that while the Shield TV will stream YouTube content in 4K, it does not support HDR with that service. To be fair, there isn't a great deal of YouTube videos formatted for HDR. Similarly, there isn't a great deal of Netflix content and televisions that support the proprietary Dolby Vision format. Still, it's an odd omission.
On the upside, the Shield TV also doubles as a Chromecast with support for streaming up to 4K resolution, so you can cast content from your phone (Android or iPhone) or from Google Home, too.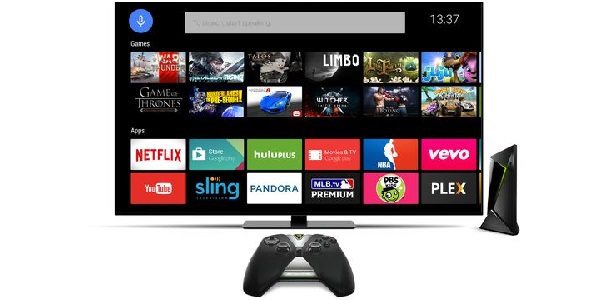 The issue with most of the dedicated streaming devices on the market is that they do a poor job of playing back the media you already own. This is where the Shield shines, with native support for all types of audio and video standards enabling it to play almost any video you throw it without any compromises. The Shield TV is also the only streaming box to support the latest Dolby Atmos surround sound format.
We stress tested the Shield with some blu-ray backups including both regular HD blu-rays and more demanding 4K Ultra HD blu-ray files off our network storage and it all played flawlessly in its original quality complete with lossless 7.1 audio blasting through our home theatre setup.
For playback, you're going to need to use a dedicated app like Kodi or Plex both of which are officially supported on the Shield. Fans of Plex will be pleased to know that you can also use the Shield as a Plex server. This is a big deal as it means you no longer need to leave your power hungry PC running to transcode and serve up media that you wish to view on Plex. Instead, plug in a big fat USB drive full of content and stream video, music, or images from your Shield to any other device with Plex, like your phone or tablet.
On the topic of storage, the base model only comes with a paltry 16GB. However unlike other dedicated media streaming devices, the internal storage can be easily expanded with external hard drives via the two USB 3.0 ports located on the back of the unit.
Gaming: multiple ways to play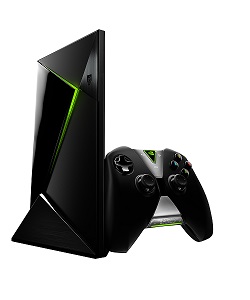 The other area where the Shield sets itself apart from the competition is in the gaming department. The Shield offers a number of ways to play. You can either use the Google Play Store to download controller-friendly Android games, stream games you already own from your PC to the living room via GameStream or play the latest PC games beamed from the cloud with a Netflix style subscription service called GeForce Now.
Nvidia has also partnered up with select game studios to bring some of the best games of the last console generation to the Shield though the results are admittedly hit and miss. Titles like Doom 3 and 2013's Tomb Raider reboot perform on par with its console counterparts but then there are titles like Resident Evil 5 which run poorly. That said, the Shield uses the very same Nvidia Tegra X1 processor found inside the Nintendo Switch, so the hardware is clearly more than capable and it blows through most of the Android TV titles without breaking a sweat.
For gaming, the Shield is at its best when used in conjunction with an Nvidia gaming PC in your house, and makes streaming games from your PC to a TV in another room very easy. Provided you have a powerful enough PC that is connected to the same home network, you can beam games to the Shield at up to 4K resolution and in HDR. In our testing, the results were impressive with no perceptible lag or compression artifacts even in a fast paced shooter like Shadow Warrior 2.
For those who don't own a capable PC, there's Nvidia's online streaming service GeForce Now, which enables you to stream the latest PC titles from the cloud for a monthly subscription fee. Unfortunately, the service isn't available outside of the USA and Europe.
Finally, while other streaming devices might make you purchase a Bluetooth controller in order to really enjoy games (cough, Apple TV), Nvidia Shield comes with a quality gamepad in the box.
That same gamepad is also equipped with an always on microphone so that you can call on Google Assistant when near your controller. Simply by saying "OK Google", you can initiate web searches, control apps running on the Shield TV or control smart devices throughout your house simply by talking to them.
We found the voice recognition to be slightly behind the Amazon Echo's, but more sensitive and accurate than our smartphone. Nvidia also sells a small smart speaker accessory called Spot that plugs into any wall socket. Once plugged in it enables you to continue using Google Assistant when away from the Shield.
Premium streaming box with gaming chops
If all you care about is streaming video from mainstream services like Netflix, Stan, YouTube and Amazon Prime Video, then you don't need to spend this much.
Power users and PC gamers on the other hand will find lots to love here. At roughly the same price as the Apple TV ($US199/$A265), the Shield is the most powerful, flexible and capable streaming media player on the market. With an extensive gaming portfolio and the ability to act as a central command station for any smart home setup not to mention its ability to playback anything you throw at it, the Shield offers something for everyone.
We also need to commend Nvidia for the frequency at which it releases software updates that more often than not expand the capabilities of the Shield.
The absence of Dolby Vision and YouTube HDR support in addition to the lack of availability of GeForce Now in this region means the Nvidia Shield is not without its shortcomings. Hopefully, some of these issues will be addressed in a future software update. With that said, if you are in the market for an all-in-one streaming box, the Nvidia Shield should be at the top of your list.