St. Dalfour rated king of the fruit spreads
There are few tastier treats than jams and fruit spreads, especially when it comes to foods that are considered acceptable for breakfast! From the mini condiments you get in hotels to the big jars you buy from your local supermarket, jams and fruit spreads add a delicious edge to a wide range of foods, whether it's your morning toast, afternoon scone or weekend baked cakes. But which brands of jams and fruit spreads offer the best overall bang for your sticky treat buck?
As part of our annual review of various food and drink items, we surveyed lovers of jams and fruit spreads across Australia to seek their opinions about the products they have bought and enjoyed (or otherwise) over the preceding three months. You may also like to see our ratings for:
When it comes to jams and fruit spreads, 10 different brands received the minimum sample size required to be included in the final results, including big names like Beerenberg, Bonne Maman, Cottee's, Roses and St. Dalfour, alongside private label products from Australia's big supermarkets, Coles, Woolworths and ALDI. It seems Aussies are a fairly hard bunch to please when it comes to our jams and fruit spreads, with five-star reviews in fairly short supply. But that wasn't the case with St. Dalfour, which was rated five stars for taste, variety, packaging appeal and overall customer satisfaction. It received three stars on value for money.
The St. Dalfour brand has been on sale in Australia for 27 years, from a company whose history of making wines and fruit liqueurs spans more than a century.  When it comes to variety and availability you'll find St. Dalfour fruit spreads in Coles, Woolworths and IGA. The product range is extensive, with 20 different varieties including black cherry, blackberry, royal fig, peach, pineapple & mango, raspberry, wild blueberry and the special seasonal variety. St Dalfour fruit spreads are gluten free, most varieties low GI, and made with no added cane sugar.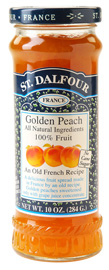 Other notable results included:
Five stars for Bonne Maman on variety and packaging appeal
Top marks for ALDI Grandessa on value for money
Five stars for IXL on variety
Top marks for Roses on packaging
These ratings include all products that broadly fall under the banner of 'jams' or 'fruit spreads'. You may not realise, but there is a subtle different between them, even if they do all end up on our toast! So, what is the difference?
Jams vs Fruit Spreads
Jam is made of a fruit pulp and/or fruit juice with added sugars, usually cane sugar. Fruit spread is generally made just like jam, except without the added sugar. It's important to note that fruit and fruit products are already quite high in sugar in the form of fructose – so if you're watching your sugar intake, you may want to take it easy with your spreads.
Whichever type of tasty treat you go for, remember that moderation is the key to a healthy diet. We hope you find our ratings helpful.