Fact Checked
Aussies go nuts over ALDI's Bramwells peanut butter for second year
On toast or straight out of the jar? Why not both! Peanut butter is a pantry staple in most households. According to our latest survey results, peanut butter is the most popular spread among Aussies (59%) edging out even the ol' Vegemite. And it's not hard to see why – aside from its deliciously gooey goodness – peanut butter is also generally rich in healthy fats, making it a good snack option to curb cravings! But 'nut' all peanut butters are created equal. Whether you're on team smooth or crunchy, there's a great variety of options to satisfy your taste buds.
To find out what's best, Canstar Blue surveyed more than 900 Australian consumers to get their feedback on which popular brands were the peanut butter to their jelly. Respondents rated brands on range variety, taste, consistency, packaging, value for money and overall satisfaction. Those that received the minimum sample size (30 responses) are featured in our report.
So, which peanut butter are consumers going nuts for? It looks like Bramwells (ALDI) is still the peanut butter to Aussies' jam, after it was rated best for value for money and overall satisfaction.
Best Peanut Butter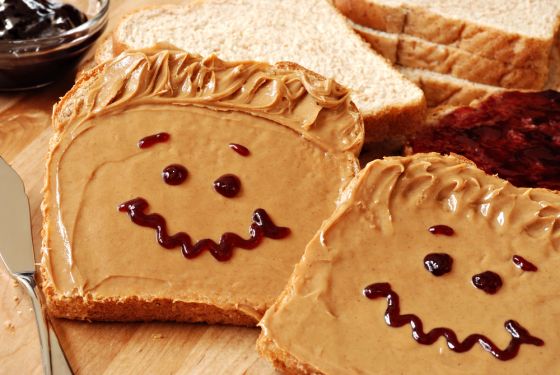 Here are the best peanut butter brands in Australia, as rated by consumers in Canstar Blue's latest review:
Bramwells (ALDI)
Sanitarium
Bega
Mayver's
Bega Simply Nuts
Coles
Woolworths
ALDI's Bramwells topped our peanut butter ratings once again, with five-star reviews for value for money and overall satisfaction. Sanitarium, Bega, Mayver's and Bega Simply Nuts followed behind on four stars overall. Supermarkets Coles and Woolworths rounded up the scores on three stars each.
When it comes to taste, it was Sanitarium, Bega and Mayver's that impressed with five-star reviews. Aussies also rated Mayver's best for variety and gave the brand an extra set of full marks for its packaging appeal, alongside Sanitarium, Bega and Bega Simply Nuts. Sanitarium and Bega additionally scored five stars for consistency.
Peanut Butter Brands
Bramwells (ALDI)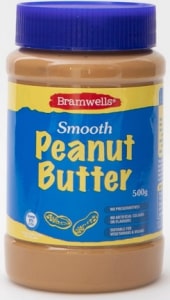 Bramwell's is a generic brand sold exclusively in ALDI supermarkets, so diehard shoppers will be glad to know their favourite superstore is stocked in quality American-style peanut butter. The peanut content per Bramwells jar is higher than in most generic brands, with apparently less than half the sodium, and available for about $2.40 for 500g.
Bramwells was rated best for value for money and overall satisfaction with five-star reviews, and got four stars everywhere else.
Sanitarium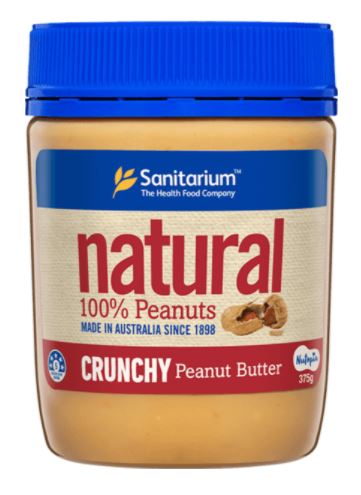 Sanitarium is claimed to be one of the first brands to make peanut butter in Australia circa 1898, before it quickly grew to become one of the country's most popular brands even today. Whatever type of peanut spread you like; Sanitarium has you covered with a range of smooth and crunchy options and healthier alternatives with no added sugar or salt and made with 100% natural peanuts. A spread jar can cost $4.05 for 375g, depending on different retailers.
Sanitarium achieved five stars for taste, packaging appeal and consistency, before landing on four stars for overall satisfaction and in the remaining categories.
Bega
Bega's journey may have started in dairy, but this Aussie-owned brand is now renowned for its wide range of nut spreads, cream cheese and Vegemite. Bega features a wide range of peanut butter options catering for every nutter's taste buds. This includes smooth, crunchy, super crunchy, dark roast crunchy and dark roast smooth peanut butter. Plus, products are said to be free from nasties like artificial colours, flavours or preservatives. A jar of your favourite Bega peanut butter could cost anywhere between $3.20 for 200g and $16.50 for a 2kg bucket.
Bega received five-star reviews for taste, consistency and packaging appeal. It also scored four stars for value for money, variety and overall satisfaction.
Mayver's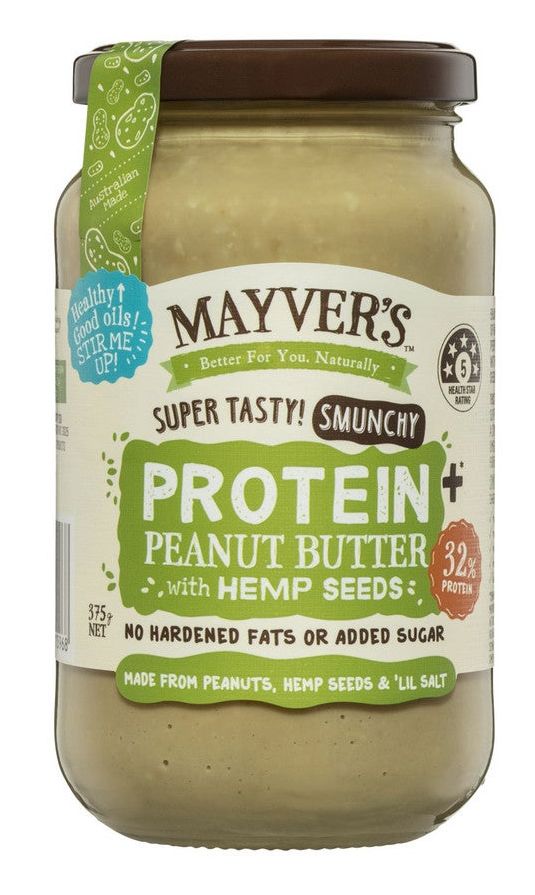 Mayver's is another Aussie label on a mission to provide a healthier alternative to your run-of-the-mill nut butter. This brand is a staple among health-conscious shoppers because it offers different flavours of what's described as 'natural' spreads, which could set you back at least $5 or more for 375g at the checkout. Mayver's peanut butter options include smooth, scrunchy, organic, protein peanut butter and peanut coconut spread.
Mayver's was rated best for range variety and also scored five stars for taste and packaging appeal. It got four stars for overall satisfaction and consistency, plus three stars for value for money.
Bega Simply Nuts
Bega Simply Nuts is the newest offshoot of the Bega peanut butter family – said to be made with 100% Aussie slow-roasted peanuts and low in salt. Bega Simply Nuts is also gluten and dairy-free and offers the staple smooth and crunchy spread, with a 325g jar likely to set you back about $5.
Bega Simply Nuts received a five-star review for packaging appeal, before receiving four stars for overall satisfaction and most other categories. The only exception was variety, where it got three stars.
Coles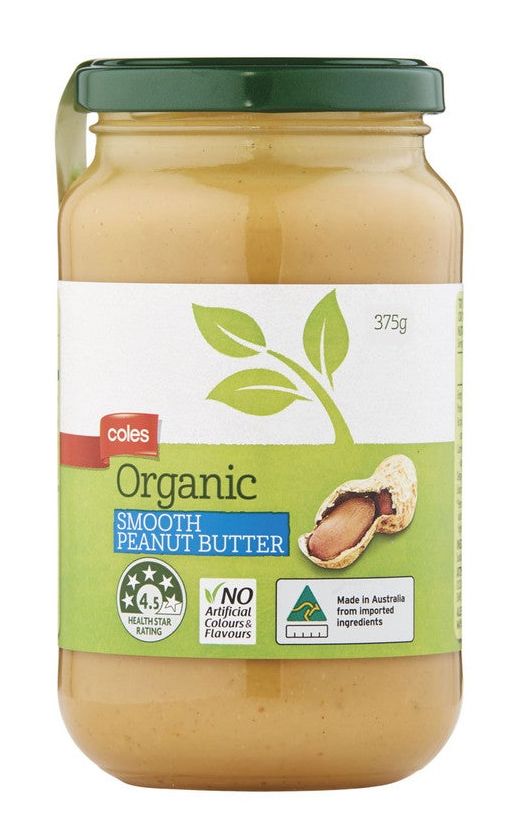 Coles offers several types of smooth and crunchy peanut butter, with prices usually starting from $1.80 for 375g. You can also snag a chunky 980g tub for $6.50, or the supermarket's line of organic peanut butter for $5. These are claimed to have no artificial colours or flavours.
Coles got an even split score, achieving four stars for taste, consistency and value for money, plus three stars for overall satisfaction and everywhere else.
Woolworths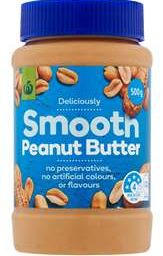 Woolworths' homebrand peanut butter range includes the usual smooth and crunchy offering. These are claimed to contain no artificial colours, flavours or preservatives. You can find Woolworths peanut butter on the shelves for $4 for 500g.
Woolworths peanut butter received four stars for taste and value for money, and got three stars for variety, consistency, packaging appeal and overall satisfaction.
Which peanut butter should I buy?
This is a debate that has divided Aussies for years. Which is best – smooth or crunchy? Well (drum roll please), the majority of respondents (47%) in our survey said they prefer crunchy peanut butter over a smooth spread.
But whatever your preference of texture, it's important to look at each product label for the peanut content (some spreads can contain less than 50% peanuts) and nutritional information. Of course, the price will also be a factor to consider. But if our survey results are anything to go by, you don't always get what you pay for, so it's worth shopping around and trying new things.
About the author of this page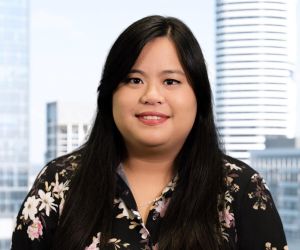 This report was written by Canstar Blue's home & lifestyle journalist, Tahnee-Jae Lopez-Vito. She's an expert on household appliances, grooming products and all things grocery and shopping. In addition to translating our expert research into consumer-friendly ratings reports, Tahnee spends her time helping consumers make better-informed purchase decisions on all manner of consumer goods and services, while highlighting the best deals and anything you need to be aware of.
Online Grocery Shopping Reviews
*Prices sourced from respective retailers – accurate as of March 2021.
Picture credits: Dmytro Zinkevych/ Shutterstock.com, / Marie C Fields / Shutterstock.com.