Fact Checked
SunRice bowls over Aussies in microwave rice review
Forget fast-food takeaway ─ microwavable rice can help you get dinner sorted in just 90 seconds.  Plus, add a few more minutes to heat up some frozen veggies and meat (or even a supermarket roast chicken) and you'll have yourself a quick meal faster than you can reach the Macca's drive-through window! Canned tuna is also an easy option for budget-conscious (or lazy) cooks.
To find out what Aussies are dishing up at home, we surveyed nearly 450 consumers for their feedback on the microwave rice they've bought from a supermarket or grocer and eaten in the last three months. Respondents rated brands on taste, texture, range variety, packaging, value for money, and overall satisfaction. Those that received at least 30 responses are featured in our ratings.
SunRice bagged the top spot in our latest survey, receiving five stars in multiple categories ─ including overall satisfaction.
Best Microwave Rice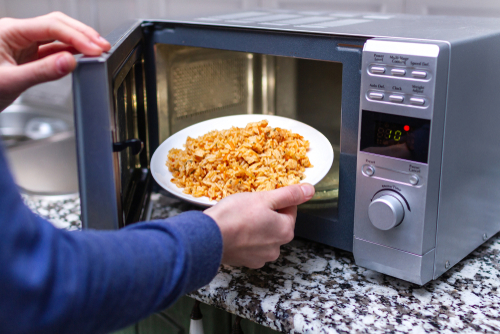 Here are the best brands of microwave rice in Australia, as rated by consumers in Canstar Blue's latest review:
SunRice
Coles
Ben's Original
Woolworths
SunRice steamed ahead on five stars for taste, texture, and overall satisfaction. Ben's Original got the edge in terms of variety, while Woolworths scored top marks for value for money. Both brands also got full marks for packaging, as did Coles.
Top Microwave Rice Brand ─ SunRice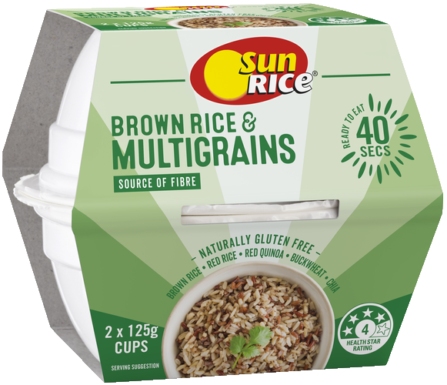 SunRice is one of the leading rice brands around the world, offering a wide variety of dry uncooked and microwave rice. It also produces snacks incorporating rice, such as rice cakes, brown rice chips, and baby rice cereal for infants.
There are several types of microwave rice to choose from, including:
SunRice Brown Rice & Quinoa Quick Cups
SunRice Steamed Jasmin Rice (250g)
SunRice Steamed Brown Rice (450g)
SunRice scooped up five stars for taste, texture, and overall satisfaction. It also scored four stars for variety and packaging, plus three stars for value for money.
Which rice is most nutritious?
Brown rice is claimed to be the healthiest type of rice because it's whole grain. That is, each grain comes with all three parts that make a grain complete (bran, endosperm, and germ) and therefore packed with all the nutritional benefits rice can offer.
White rice, on the other hand, is considered less healthy because it undergoes processing which ends up removing the bran and germ, and consequently most of the fibre, protein, B vitamins and minerals you would usually find in these two components.
Health authorities including Eat For Health recommend Australians should eat at least four to six serves of grain foods every day, with two-thirds being whole grain. But keep in mind that rice is only part of a balanced diet if you stick to an appropriate serving amount and opt for regular rice (i.e. brown rice or basmati rice) rather than flavoured rice.
About the author of this page
This report was written by Canstar Blue's home & lifestyle journalist, Tahnee-Jae Lopez-Vito. She's an expert on household appliances, grooming products and all things grocery and shopping. In addition to translating our expert research into consumer-friendly ratings reports, Tahnee spends her time helping consumers make better-informed purchase decisions on all manner of consumer goods and services, while highlighting the best deals and anything you need to be aware of.
Picture credit: Goffkein.pro/Shutterstock.com.