Fact Checked
How we rate dried pasta
Life is full of pasta-bilities! Whether we're talking about spaghetti, penne or linguine, there's a type of pasta out there for everyone, including the fussiest of eaters. Naturally, our survey found that the majority of Australians (70%) always keep dried pasta in the cupboard, while nearly half (48%) eat it at least once a week. Obviously, pasta is near and dear to our hearts but with so many brands to choose from it can get tricky. So, which brands were rated 'tortellini awesome' and which didn't 'pasta the test'? Canstar Blue compares the top brands to find the king of carbs.
---
Find more detailed information on our ratings methodology.
---
Top Dried Pasta Brand – San Remo

San Remo is an Australian pasta brand with an authentically Italian history. Established in 1936, it was one of the first brands to helm the growing popularity of dried pasta in Australian supermarkets. Since then, it's grown with Australian tastes to offer pasta in all shapes, sizes and forms.
Some San Remo dried pasta products on offer include:
San Remo No. 5 Spaghetti
San Remo Gluten-Free Egg Tagliatelle
San Remo Pulse Pasta Red Lentil Spirals
San Remo Instant Lasagne Sheets
You can find San Remo dried pasta products in most major supermarkets and grocers in the pasta aisle. Prices start around $1.90 for a 250g packet of egg pasta and around $2.95 for a regular 500g packet of dried spaghetti.
San Remo rated five stars for taste, texture, variety and range, and overall satisfaction. It finished on four stars for packaging, and three stars for value for money.
Top Dried Pasta Brand – Vetta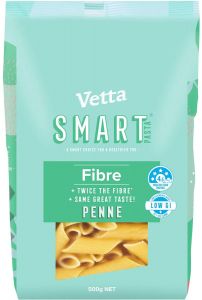 Vetta pasta is all about combining traditional pasta-making processes with modern-day healthy ingredients. For example, Vetta's SMART Protein pasta has 24g of protein per serving and 25% fewer carbs, while maintaining that pasta flavour everyone loves. Vetta offers pasta in traditional shapes and sizes, and with added fibre. Vetta also has a Rural Aid pasta range, which donates 10c of every pasta purchased to Rural Aid initiatives, so you can feel good about eating carbs.
Vetta dried pasta products include:
Vetta Pasta
Vetta SMART Fibre Pasta
Vetta SMART Fibre Kids Pasta
Vetta SMART Fibre Lasagne
Vetta Rural Aid Pasta
You can find Vetta dried pasta products in most major supermarkets and grocers in the pasta aisle. Prices start around $2.50 for a 750g packet of dried penne pasta.
Vetta earned five stars for taste, texture, packaging, and overall satisfaction. The brand settled on four stars for variety and range, and three stars for value for money.
Which dried pasta should you buy?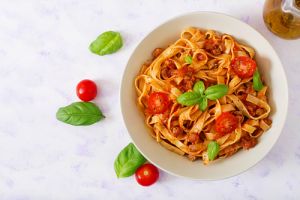 This will depend on what you're dishing up. Pasta can be organised into different categories, including long and short pasta, tubes and stuffed pasta, soup pasta, and other special shapes, of which there are different varieties (i.e. wheat, whole grain, gluten-free, etc).
As a general rule, thin pasta is best served with light, wine-based sauces, while thicker pasta can be coupled with heavier tomato-based sauces, for example. Flat pasta usually goes best with cream sauces, while round and tube pasta tend to work with just about anything.
Pasta La Vista!
Meet our consumer experts
---
Megan Birot: Home & Lifestyle Editor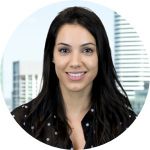 Megan is Canstar Blue's Home & Lifestyle Editor, leading the team that focuses on consumer products and services, ranging from supermarkets and groceries to home and personal appliances and retail stores. She interprets Canstar Blue's bespoke research on the thousands of brands that we compare, rate and review, to help shoppers make better purchasing decisions.
Samantha Howse: Consumer Research Specialist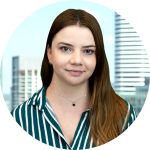 Samantha Howse is Canstar Blue's Consumer Research Specialist, coordinating the consumer research program behind our customer satisfaction awards across Canstar and Canstar Blue in Australia and New Zealand. Sam has earned a Bachelor of Business (Marketing) from Griffith University and, with seven years in market research and 2 years in marketing, she is experienced in survey design, implementation and analysis, coupled with an understanding of marketing principles and best practice.
Picture credits: Nitr/ Shutterstock.com, Timolina/ Shutterstock.com.