One in five Australians disagree with the decision by the supermarkets to ban single-use plastic bags, new Canstar Blue research has found. And more than half of shoppers have stockpiled the bags at home to use going forward.
In the week that Woolworths kicks-off the national plastic bag ban, the survey of more than 2,200 adults has revealed that 71% agree with the decision, while 21% disagree and 8% are undecided.
Whatever their views on the banning, 45% of respondents agreed that taking their own bags to the supermarket going forward will be a hassle, while 58% said they have been saving bags to use in future.
"Phasing out these single-use plastic bags is clearly the right thing to do for the environment, but it's going to take a lot of shoppers some time to adjust," said Canstar Blue Editor Simon Downes.
"While the plastic bag ban is supported by most, the supermarkets can expect some frustrated customers in the weeks ahead. While Coles and Woolworths have been trying to get the message across, there will still be lots of shoppers turning up unprepared and shocked that they'll need to purchase one or more bags to carry their groceries home."
The survey found that almost half of shoppers (46%) have already been in the habit of taking their own reusable bags to the supermarket. And there is some finger-pointing at the supermarkets for how the plastic bags have been used in the past, with 51% agreeing that checkout staff have been giving out too many (i.e. not packing efficiently).
"It seems that shoppers have generally fallen into three camps – those who already use their own bags and support the ban, those who don't already use their own bags but still support the ban, and those who don't already use their own bags and don't support the ban," said Mr Downes.
"There seems to be an air of resentment from some because, ultimately, going to the supermarket is now going to take a little more forward-planning. It will also cost you more if you don't take your own bags every time."
Women (74%) were found to be more likely to support the plastic bag ban than men (68%), the survey found.
Overall, shoppers aged 18 to 29 were most supportive (74%), with those aged in their 40s the least likely to back the ban (64%).
South Australia was the first state to phase the bags out back in 2009. It was followed by the ACT and Northern Territory in 2011, while Tasmania banned them in 2013.
Shoppers in these states were found to be the most supportive of the bag ban (80-82%), but at this stage just 70% of consumers in Victoria and 67% in New South Wales think it is a good idea.
Plastic bags are gone – what do you use now?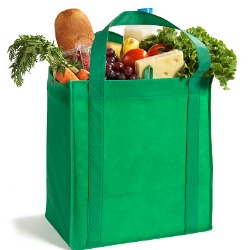 Woolworths will no longer give away single-use plastic bags at stores from Wednesday (June 20), while Coles will have phased them out from all of its stores across the country by July 1. So what do you do now?
Woolworths is launching a range of reusable bags priced between 15 cents and $2.49 – the latter a 'Chiller Bag' claimed to keep your shopping cool until you get home. The range also includes a 99c 'Foldable Bag' which is said to be small and compact so you've always got one with you.
Coles will also offer reusable bags priced at 15 cents, in addition to a range of other colourful multi-use bags from $1. These are said to have been designed by school children from around the country and a portion of the cost will go to one of the supermarket's chosen community organisations.