Just over a year after the Federal Government's health star rating system for food packaging was launched, research from Canstar Blue shows that Australians have generally welcomed the extra advice – but most are unlikely to take it.
The front-of-pack labelling system was introduced in response to Australia's growing obesity crisis and is designed to give consumers an easy way to compare similar processed foods in order to make healthier choices. "The more stars, the healthier", the slogan says.
The Health Star Ratings System system is voluntary and is used in addition to the mandatory nutrition information panel which already provides important information about the contents of the food. But rather than having to study the detailed information across two separate products, the idea is that the health star ratings will provide quick and convenient 'at a glance' advice to busy shoppers.
Consumers React Positively to New Ratings
Canstar Blue's survey of 3,000 adults found that the majority of Australians have welcomed the ratings, with 60% agreeing with the statement: "I find the health star ratings helpful in understanding what is and isn't good for me".
In addition, 58% said they find the ratings easy to understand and 78% were in agreement that all food companies should introduce health ratings. However, only 48% of respondents said the ratings have, or will have an impact on their purchase decisions.
Younger Age Groups Struggle to See Their Value
Adults aged in their 40s were most likely to be guided by the ratings (52%), while the youngest age group surveyed, 18-29-year-olds, were amongst the least likely (45%) to let the stars influence what they buy. Those in their 60s and aged 70 plus (45%) shared their lack of interest.
People in the youngest age group were also the least likely to find the ratings easy to understand (54%) and to find them helpful (55%).
Head of Canstar Blue, Megan Doyle, said: "We support any system that helps consumers make better decisions, particularly when it comes to their health, so it's disappointing to find the majority of Australians are not making these ratings a part of their purchase decision. The system seems to have been met with apathy by some.
"If you're presented with two like-for-like products it makes good sense to allow the health ratings to become an important factor. However, for families on a tight budget, the price of food will probably dictate which products they put in their shopping basket. A marginal difference in the ratings seems unlikely to change that.
"The trend from our results is that younger people are going to be the hardest to influence – which is not what the Government would like to hear in its bid to curb Australia's obesity crisis."
The survey also found that a significant 95% of adults think people should take more personal responsibility for their own healthy eating habits, rather than having to rely on package labelling.
Confusion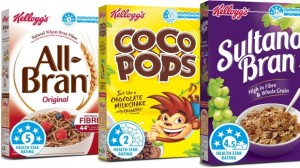 Designed to "take the guess-work out of shopping", the health star ratings have resulted in some confusing results and it seems some people don't quite understand how the system is meant to be interpreted. You may have seen the example of the Greek style yoghurt that only scored a rating of one and a half stars, or the beer-battered frozen chips that rated four stars, amid claims that the system was badly designed and has been badly implemented.
With such eyebrow-raising ratings, it's little surprise that some consumers believe the system has presented mixed messages about what products are and aren't good for you – 68% of the adults we surveyed said they find it confusing that some seemingly unhealthy foods have good ratings, and vice versa.
Despite a significant marketing campaign to increase consumer awareness of the system, it seems many people have missed the most crucial element of it – that the ratings are designed to differentiate between two SIMILAR products, whether it's yoghurt or frozen chips. The idea is NOT to compare products in different categories based on their ratings. In the case of the poorly-rated yoghurt, the message is simply that the product is less healthy compared to other yoghurts, while the four-star rated frozen chips are simply a healthier version of other frozen chips. It's not the case that beer-battered chips are healthier for you than Greek style yoghurt…
Participation
There are now more than 1,000 products sold in Australia that carry the health star ratings, including most applicable private label goods from Coles and Woolworths. But some food companies have been quicker to adopt the system than others – Kellogg's in particularly received criticism from consumer advocacy group CHOICE until it eventually announced its participation in the voluntary system in April 2015.
Other companies that have adopted the health star ratings include: Sanitarium, Nestle, Heinz, Fonterra, Simplot, Vitality, Mars, Lion, Betta Foods, Monster Health Food Company, Food for Health, Freedom Foods, Vetta, Parker's Organic, Yummia, Campbell's, Arnotts and Unilever.
Food manufacturers and retailers are responsible for the correct and accurate use of the system. This includes correctly calculating the health star ratings in the first place, accurately displaying nutrient information, ensuring consistency of information between the health star ratings and the Nutrition Information Panel, and complying with all relevant legislation and regulations. The number of stars is determined using a calculator designed to assess "positive and risk nutrients" in food. The algorithm that drives the calculator was developed in consultation with Food Standards Australia New Zealand and other technical and nutrition experts.
What next?
Canstar Blue's survey comes in the same month that the George Institute for Global Health has launched a new trial to determine which food packaging labels are the most effective in helping consumers make healthier choices at the supermarket. Armed with smartphone apps, 2,500 shoppers will scan particular items and make a decision of whether or not to buy based on the label's information.
The trial will be putting the health star ratings up against the mandatory nutritional information panel, the voluntary daily intake guide, as well as two new ideas – traffic lights on salt, sugar and fat contents, and simple, blunt advice in green or red, telling shoppers whether to buy or avoid certain products. Shoppers get one type of label each to trial and the app will register the foods selected.
The study should be completed by the end of 2015, at which point the George Institute will take its findings to the Government to potentially influence how future labels look.
Canstar Blue will continue to monitor consumer sentiment towards the heath star ratings. In summary, our survey of 3,002 adults in August 2015 found:
Most adults (95%) think people should take more personal responsibility for their eating habits.
A small majority find the ratings easy to understand (58%) and helpful in understanding what foods are good for them (60%).
A large majority (78%) agree that all food companies should carry health star ratings.
Fewer than half (48%) say the ratings have had, or will have, an impact on their purchase decisions.
Just over two-thirds (68%) find it confusing that some seemingly unhealthy foods carry high ratings and some healthy foods have low ratings.
Young Australians (aged 18-29) are least likely to find the ratings easy to understand, helpful, and to consider them in their purchase decisions.