Eating ice cream usually comes with an extra scoop of guilt, but a new high protein, low calorie brand is about to change all that.
The latest brand to market itself as a 'healthier' alternative, FroPro is the first ice cream in Australia to receive a five-star health rating, according to Woolworths.
Keep in mind that the government health star ratings system compares the nutritional profiles of foods within the same category, so you can't compare ice cream with cereal or yoghurt with frozen chips, for example.
Nevertheless, FroPro was created by professional athlete and former rugby union star, Ed O'Donoghue, as a healthy challenger to the sugar filled, high fat desserts that have traditionally dominated supermarket freezer aisles.
From 78 calories per serve, it aims to be the guilt-free ice cream for those perhaps on a health kick, or just watching their waistline.
Boasting high protein, low fat, 95% sugar free, gluten free and Low GI, it is bound to be a favourite for many.
FroPro ice cream is also stated to be made in Australian from at least 85% Australian ingredients.
It's available to purchase from retailers including Woolworths, IGA, About Life Natural Marketplace, Drakes Supermarket and Foodland, typically with a price of $14 for a 520ml tub. So it's not exactly cheap!
Flavour options include salted caramel, with 78 calories per serve, chocolate with 81 calories per serve, and peanut butter with the largest calorie count in the range, but still a relatively low 86 per serve.
According to FroPro, a 104ml serve of Ben & Jerry's ice cream contains 260 calories and 25g of sugar, whereas FroPro ice cream has just 81 calories and contains 0.3g of sugar.
Even Weis ice cream, typically fruit flavoured, is stated to contain 97 calories per serve and 15g of sugar.
Mr O'Donoghue told Food Magazine that the introduction of FroPro to supermarket giant Woolworths is a game changer for Australians.
"It's a real watershed moment. By backing a product like FroPro in the ice cream aisle, Woolworths is leading the way in promoting better eating habits by giving Australians a healthier ice cream option. FroPro is the first 99% sugar free ice cream ever ranged in an Australian supermarket," Mr O'Donoghue said.
How does FroPro compare?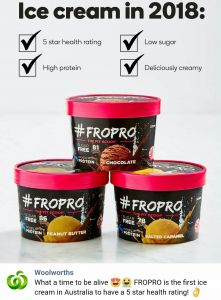 Another recent high protein, low calorie ice cream brand to land in Australia is Halo Top. The LA brand comes in a 473ml tub with a calorie count between 280 and 360 per tub.
It features a large range of 11 flavours, including vanilla, chocolate, lemon cake, strawberry, as well as mint chip, peanut butter cup, birthday cake and more.
For a 280 calorie tub of its vanilla bean flavour, expect 70 calories per serve (64g), while the 360 calorie chocolate pint will add up to 80 calories per serve.
Halo Top ice cream, however, isn't cheap, being sold in supermarkets at $10 per tub – almost double the price of a two litre tub of Bulla's vanilla ice cream, for example.