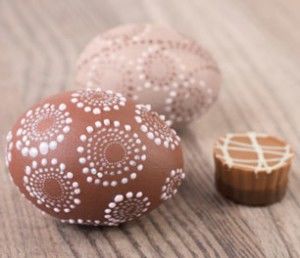 Australians love giving each other Easter presents, namely chocolate eggs and bunnies; but how about this year, you make your own? We looked around the internet and found some great DIY Easter egg recipes from the YouTube kitchen of Cooking with Karma. Make sure you try your hand at them this weekend! You'll find video links below each recipe.
Peanut Butter Chocolate Easter Eggs in 10 Easy Steps
Ingredients (makes 20 – 30 eggs):
1 cup of smooth peanut butter
1 cup of powdered sugar
Pinch of salt
Milk or dark chocolate for melting (approx. 250g)
Equipment (optional)
Recipe:
Combine peanut butter, icing sugar and salt until doughy, and then pop in fridge for 10 minutes or until firm.
Take a small portion and roll into egg shape (however many you like) then freeze for 10-20 minutes.
While the eggs are freezing, melt the chocolate. You can do this by finding a heatproof bowl that will fit half in and half on top of a saucepan. Place the broken up blocks into the bowl. Boil water in the saucepan, and then place the bowl on top. Stir the chocolate until it becomes runny, and then remove from heat.
Remove eggs from fridge and drizzle melted chocolate over them until coated.
Shake off excess chocolate, place on tray lined with baking paper, then into the fridge to set.
At this point, you'll have some pretty yummy eggs that you can just fridge set and eat. However, if you have molds…
Paint the inside of the egg molds with melted chocolate, ensuring the egg is still hollow.
Put in fridge for 10 minutes then coat once more, then back in the fridge for 10 minutes.
Dollop the peanut butter mixture into the hollow center of the egg then pop back into the fridge for 5 – 10 minutes.
Drizzle melted chocolate around the edges of the half egg.
Stick two halves of the egg together using this lining and back in fridge for 10 minutes to allow the egg to set.
See the full peanut butter egg video here.
Faux-Cadbury Crème Eggs
Ingredients (approximately 16 complete eggs):
Milk or dark chocolate for melting (approx. 250g)
1 1/2 cups of icing sugar
1/8 cup of butter
1/4 cup of glucose
1 teaspoon of vanilla
Yellow/orange food coloring
Equipment
Recipe:
Melt chocolate using the aforementioned method.
Fill each mold completely to the top with chocolate, then place into the freezer to set for 7-10 minutes. Remove when edges have just started to set.
Using a spoon, gently scoop out the center of the chocolate egg then pop back into fridge to set.
Add butter, glucose and the vanilla into a bowl and mix until creamy.
Add half of icing sugar and mix until paste before adding the rest of the icing sugar and mixing again.
Add other half of icing sugar and mix again then add water until desired consistency has been achieved.
In a separate bowl, mix 1/3 of cream mixture and some colouring to make a substance that appears to look like yolk.
Add some water until desired consistency has been achieved.
Using piping bag, pipe white part of mixture into the hollowed out egg shells, then do the same for the orange yolk-like mixture
Melt the middle bits of chocolate that were scooped out of the eggs and use to stick the two halves of the eggs together.
Put in the fridge for 10 – 20 to set.
See the full crème egg video here.
Ultra Choc Easter Egg Slice
Ingredients:
100g scotch finger biscuits
100g chocolate biscuits  (pick your favourites)
80g butter
1/3 cup of condensed milk
200g dark chocolate
200g milk chocolate
300ml thickened cream
1-2 packets of mini Easter eggs of your choice
Recipe:
Crush the scotch finger and chocolate biscuits in a big bowl.
Add butter and mix together until it looks like wet sand.
Pour mixture into a tray lined with baking paper.
Put in the fridge for 20 – 30 minutes.
Chop up both the milk and dark chocolate. Melt using the aforementioned technique.
Add cream into this, mix through, then add condensed milk.
Remove chilled base from fridge and add chocolate mixture over biscuit base until coated.
Put mini eggs on top of base while chocolate is still warm.
Add mini marshmallows then pour the rest of the melted chocolate on top.
Pop in the fridge for 4 – 6 hours (preferably overnight).
Slice up and enjoy!
See the full egg slice video here.